Motorbike

Bike

Winter

Equestrian

D-air®

Custom Works

AGV
Everyone has an important role in this great challenge. We do what we were born for: protect. For the safety of our customers and collaborators, with regret but great determination we have decided to keep our shops closed until the situation requires it. We will come back to sharing our passions together when this moment of emergency has passed. We can all do our part together.

In the meantime, our online store on dainese.com is always active: shipping, exchanges and returns are free on any order, until the stores are reopened.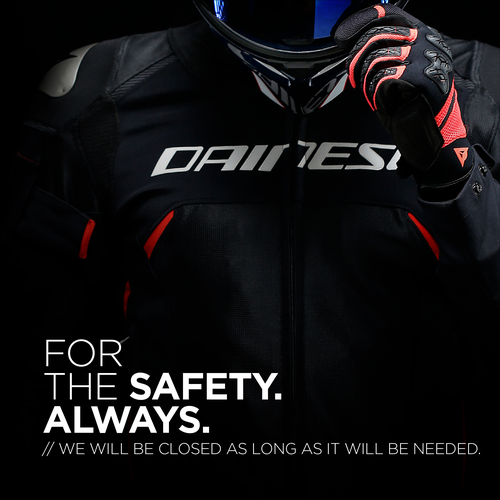 Dainese Store Hannover brings a passion for Italian motorcycle riding to the beautiful and historic Saxony area of Germany.

Our store is located along a main thoroughfare, and easily findable among a nearby group of professional schools and flats. The store is commuter friendly, and easily reachable for bikes, motorcycles and cars.

Dainese Store Hannover offers a variety of Dainese products, so you can be sure that you'll find the best motorcycling and racing gear in our location.

Our store is run by motorcycle enthusiasts, so you can be sure that you will find someone who has the answers to your questions. Mathis, Klaas, Sandra, Martin and Patrick all love riding their bikes both at the racetrack and in the streets. We're also passionate members of the motorcycle community. If you see us out and about, stop by and say hi.

We participate in group rides once a month. We also have tactical lessons from a local driving school every few months. We also plan on tactical training for racing as well. Every year in October, we visit the Pannonia Ring for three days on the racetrack with friends and customers. Occasionally we'll meet after work in the shop for a barbeque with our regular customers as well.
Dainese Hannover
Brühlstraße 11-13
Hannover 20097
Germany
Phone: +49 511 22859400

D-air® Premium Center

Helmet sanitization

Home Delivery

Garment sanitization