Motorbike

Bike

Winter

D-air®

D-air® Ski

Custom Works

AGV
Everyone has an important role in this great challenge. We do what we were born for: protect. For the safety of our customers and collaborators, with regret but great determination we have decided to keep our shops closed until the situation requires it. We will come back to sharing our passions together when this moment of emergency has passed. We can all do our part together.

In the meantime, our online store on dainese.com is always active: shipping, exchanges and returns are free on any order, until the stores are reopened.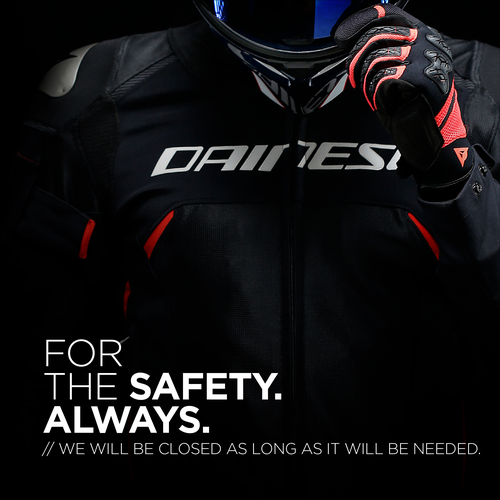 Dainese Store Chicago moved to a new location! Find us in Chicago downtown, 1216 N Clybourn Ave.

Dainese Store Chicago is the fourth worldwide store that has been completely renovated in the design according to the new Dainese and AGV retail concept. Our employees are passionate about our role as a hub in the Chicago motorcycle community. We serve as a reference point and destination for local riders, with plenty of parking available.

Dainese Store Chicago offers the best of the Dainese MOTO line for Illinois and Midwest motorcycling enthusiasts. Our friendly staff can talk with you, get to know your riding lifestyle and habits, and fit you in gear that is right for you. We also offer a helmet and glove sanitizing machine, our "save your skin" program, and a warranty program for customers.

We love the two-wheel lifestyle. Some of our frequent events include MotoGP replays, 3rd Thursday Dinner Rides, 2nd Sunday Rides, Saturday Pit Stop, Safety Seminars, First Aid Seminars, Custom Works, D Air Presentation, AGV Days, Rider/Racer Meet and Greets and so many more.

Illinois is a motorcycle-friendly State in which riders can enjoy some beautiful riding terrain such as: the urban layout of Chicago (the starting point of historic Route 66!), beautiful lakefront views, flat plains, rolling hills, farmland, forest preserves, and state parks.
Dainese Chicago
1216 N Clybourn Ave
Chicago 60610
United States
Phone: +1 224-653-8232

D-air® Premium Center

Helmet sanitization

Home Delivery

Garment sanitization