Motorbike

Bike

D-air®

Custom Works

AGV
Everyone has an important role in this great challenge. We do what we were born for: protect. For the safety of our customers and collaborators, with regret but great determination we have decided to keep our shops closed until the situation requires it. We will come back to sharing our passions together when this moment of emergency has passed. We can all do our part together.

In the meantime, our online store on dainese.com is always active: shipping, exchanges and returns are free on any order, until the stores are reopened.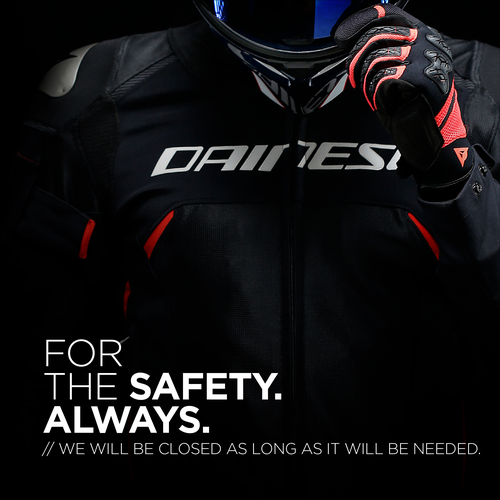 The brand new Dainese Store Milano Nord is on via Fratelli Casiraghi 427 in Sesto San Giovanni, a short distance from the SS36, a road well-traveled by all those bikers who enjoy touring as they leave Milan to skirt Lake Como as far as the Spluga pass.

Dainese Milano Nord organizes various in-store events throughout the year: special presentations of new motorcycle, ski and bike product lines, riding courses on both the track and road and motorcycle rides to allow you to experience all the excitement of two wheels.

The only official store in the area for Dainese and AGV brands, it is easy to reach with a convenient internal parking area available at the rear of the store. Our professional staff is on hand to offer a free helmet sanitization service as well as fix any buttons, sliders or zips. Luca, Salvatore and Giulia are all passionate bikers and will be able to advise you on the best technical apparel to suit your needs, whether on the road or track.

For those who love speed, passion and safety, these are directly proportional! Come and discover the initiatives at the Dainese Store Milano Nord and take a closer look at the quality of the protective equipment that has made history in the worlds of motorcycling and dynamic sports.
Dainese Milano Nord
Via Fratelli Casiraghi, 427
Sesto San Giovanni 20099
Italy
Phone: +39 02 24416919

D-air® Premium Center

Helmet sanitization

Home Delivery

Garment sanitization