Motorbike

Bike

Winter

Equestrian

D-air®

Custom Works

AGV
Everyone has an important role in this great challenge. We do what we were born for: protect. For the safety of our customers and collaborators, with regret but great determination we have decided to keep our shops closed until the situation requires it. We will come back to sharing our passions together when this moment of emergency has passed. We can all do our part together.

In the meantime, our online store on dainese.com is always active: shipping, exchanges and returns are free on any order, until the stores are reopened.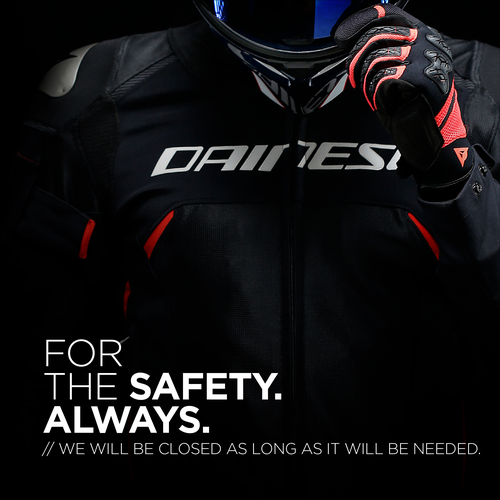 Dainese Store Rosenheim is located in Rosenheim, Bavaria, with a number of beautiful roads nearby that offer an ideal backdrop for motorcyclists.

We are the only Dainese store located within 70km, and offer a variety of helmets, gloves and Italian motorcycle apparel. We bring the Italian passion for motorcycles alive in our corner of Germany, and our customers love it.

Our store is run by motorcycle enthusiasts, so our customers can be sure that they'll receive knowledgeable answers to all of their riding questions. Lisa, Melina, Ralph, Wolf and Yannis can all be seen out and about on their bikes when they're not in the store. We offer a number of motorcycle workshops and several other in-store events for local riders. We are also an AGV Service Center.

Dainese Store Rosenheim is easily accessible by bus, train, car or motorcycle. There are a number of parking spots directly in front of our store for customer convenience.

We see a lot of tourists in the area because of the beautiful landscape around us. Nearby extensive woodlands, mountains and national parks make us a natural attraction for bikers of all kinds. Bavaria is a great place to experience on two wheels!
Dainese Rosenheim
Kufsteinerstrasse, 92
Rosenheim 83022
Germany
Phone: +49 8031 3045989

D-air® Premium Center

Helmet sanitization

Home Delivery

Garment sanitization