Motorbike

Bike

Winter

Equestrian

D-air®

D-air® Ski

Custom Works

AGV
Everyone has an important role in this great challenge. We do what we were born for: protect. For the safety of our customers and collaborators, with regret but great determination we have decided to keep our shops closed until the situation requires it. We will come back to sharing our passions together when this moment of emergency has passed. We can all do our part together.

In the meantime, our online store on dainese.com is always active: shipping, exchanges and returns are free on any order, until the stores are reopened.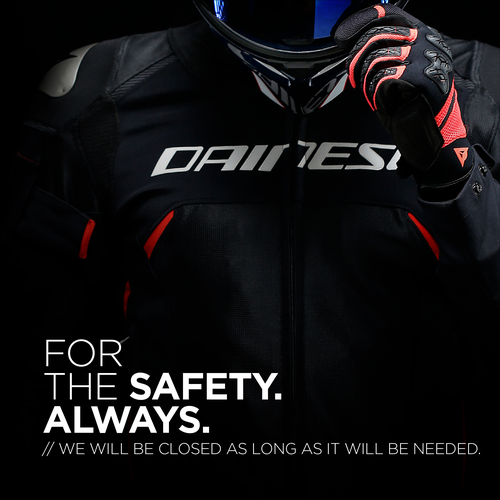 Dainese Store New York is located in the SoHo community, a hotbed for fashion and celebrity personality. We are proud to be a part of the vibrant, cultural heart of lower Manhattan.

We are the only Dainese store in the New England region, and a premiere outlet for regional motorcycle enthusiasts. Our store is located across the street from Ducati-Triumph NYC and a block from Aprilia New York.

Our store sells Dainese Moto helmets and Moto gear. We will be offering bike nights, staging group rides, and MotoGP showings. We will be attending track days to promote the store, and offering demo gear for customer use.

There is a lot that sets our store apart. In addition to our prime location and exceptional customer service, we offer helmet and glove sanitation, and coffee and drinks for customers, or anyone who ends up in our store.

We will soon offer custom work services, and may possibly add D-air service. We are passionate motorcycling enthusiasts as well. So when you shop at Dainese Store New York, you can be sure that your sales associate will have knowledgeable answers to your questions.

The New York area offers plenty for every kind of rider. We have unique urban and ocean views, as well as nearby mountains in the northern area of the state.

Stop in and see us today!
Dainese New York
140 6th Avenue
New York 10013
United States
Phone: +1 212-219-8070

D-air® Premium Center

Helmet sanitization

Home Delivery

Garment sanitization