Motorbike

Bike

Winter

D-air®

D-air® Ski

Custom Works

AGV
Everyone has an important role in this great challenge. We do what we were born for: protect. For the safety of our customers and collaborators, with regret but great determination we have decided to keep our shops closed until the situation requires it. We will come back to sharing our passions together when this moment of emergency has passed. We can all do our part together.

In the meantime, our online store on dainese.com is always active: shipping, exchanges and returns are free on any order, until the stores are reopened.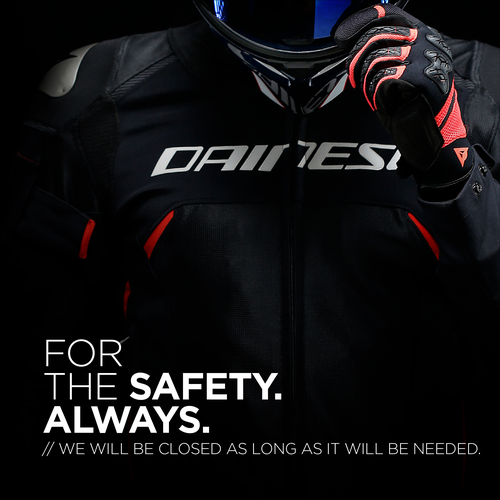 A meeting place for all those who love not only motorcycling, but also skiing, cycling, horseback riding and dynamic sports. This is Dainese Store Bologna, located at the heart of the modern Parco Commerciale Borgo Mascarella since 2015.

A store offering high quality technical apparel and most importantly an all-encompassing experience, as we organize many courses, both practical and theoretical, as well as special events involving motorcycle riders and professionals, so that everyone has chance to experience the thrill of high speed.

Not just a store but a real meeting place for those who want to breathe in the smell of the asphalt and really get the most of out of their motorbike. Dedicated as much to those who are taking their first steps in the motorcycle world as to expert bikers.

Our staff is on hand to show you all the technical apparel and protective gear that makes Dainese the leading brand when it comes to safety on both the road and the track!
Dainese Bologna
Via Stalingrado 71/5b
Bologna 40128
Italy
Phone: +39 051-374317

D-air® Premium Center

Helmet sanitization

Home Delivery

Garment sanitization