Motorbike

Bike

Winter

Equestrian

D-air®

D-air® Ski

Custom Works

AGV
Everyone has an important role in this great challenge. We do what we were born for: protect. For the safety of our customers and collaborators, with regret but great determination we have decided to keep our shops closed until the situation requires it. We will come back to sharing our passions together when this moment of emergency has passed. We can all do our part together.

In the meantime, our online store on dainese.com is always active: shipping, exchanges and returns are free on any order, until the stores are reopened.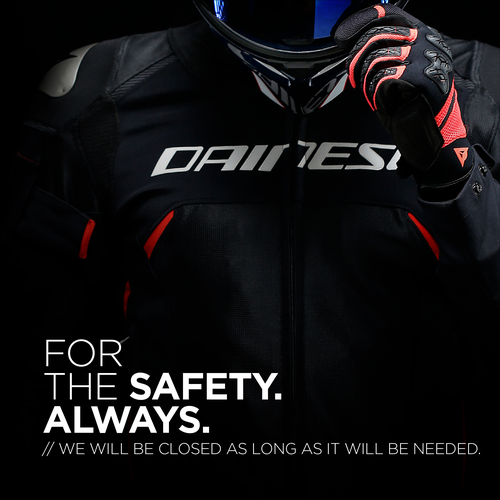 Dainese Store München offers premiere motorcycle gear from an Italian legend, in the heart of one of Germany's finest cities.

We are passionate about motorcycling – so you can be sure you will receive knowledgeable answers to all your riding, or gear-related questions. We are also avid members of the local motorcycle community, participating in local riding and racing events. There are also many in-store motorcycle events throughout the year.

Dainese Store München offers several distinct services that set it apart, including: a repair service for buttons and zippers, AGV repair service, helmet cleaning service, helmet test driving, and a new Custom Work area.

Our store offers a wide line of Dainese products for outdoor sports enthusiasts of all types, including winter sports, bicycling and horseback riding.

We are located on Frankfurter Ring, on the north side of the city, in a convenient area for shopping. Our store is also close to the Metro Station, in close proximity for commuters. Of course, motorcyclists can park their bikes in front of the store and walk in. While there are other stores in Germany, we are the only Dainese store within 60 km.

Are you looking for the best, cutting edge motorcycle and outdoor gear? Come see our store today!
Dainese München
Frankfurter Ring 36 - 38
München 80807
Germany
Phone: +49 89 35396766

D-air® Premium Center

Helmet sanitization

Home Delivery

Garment sanitization