Motorbike

Bike

Winter

Equestrian

D-air®

D-air® Ski

Custom Works

AGV
Everyone has an important role in this great challenge. We do what we were born for: protect. For the safety of our customers and collaborators, with regret but great determination we have decided to keep our shops closed until the situation requires it. We will come back to sharing our passions together when this moment of emergency has passed. We can all do our part together.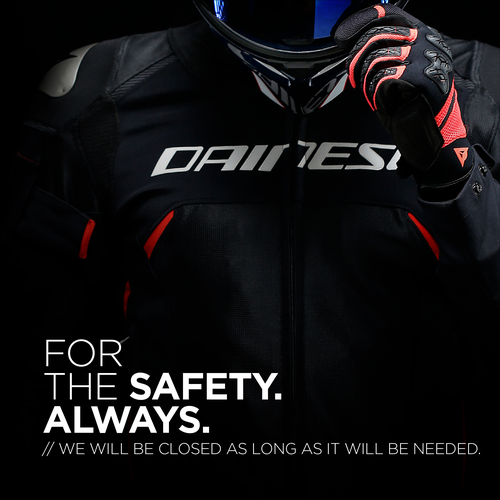 Dainese Store San Francisco is Northern California's go-to spot for motorcycle and outdoor gear. We are the largest showroom of Dainese gear in the USA, and carry the widest selection of Dainese merchandise. We're located in the South of Market neighborhood, in the heart of a beautiful riding city.

In addition to motorcycle gear, Dainese Store San Francisco also carries ski, snowboard and bicycle apparel. We offer a variety of riding-related events, and the frequency depends on the season. Our bike nights, MotoGP showings, group rides, track days, guest speakers, and riding seminars are all popular with Bay Area riders.

We have the luxury of enjoying some of the country's best sceneries on two wheels, in Northern California. We have nearby mountains and ocean, great roads, great weather, awesome restaurants and hangouts, lane splitting (filtering), and a world-class motorcycle community. We are right down the road from beautiful Napa Valley. Come on out and join us to see the very best that motorcycling has to offer!
Dainese San Francisco
131 South Van Ness Avenue
San Francisco 94103
United States
Phone: 415-626-5478

D-air® Premium Center

Helmet sanitization

Home Delivery

Garment sanitization