Motorbike

Bike

Winter

D-air®

Custom Works

AGV
Everyone has an important role in this great challenge. We do what we were born for: protect. For the safety of our customers and collaborators, with regret but great determination we have decided to keep our shops closed until the situation requires it. We will come back to sharing our passions together when this moment of emergency has passed. We can all do our part together.

In the meantime, our online store on dainese.com is always active: shipping, exchanges and returns are free on any order, until the stores are reopened.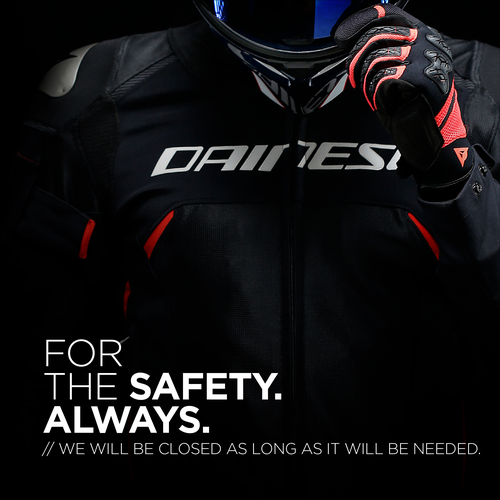 Dainese Store Orlando is the premiere location in the sunny southeastern United States for Italian motorcycle gear. We are located in the heart of downtown Orlando, inside the Ace Cafe Building.

Our staff is comprised of motorcycle enthusiasts, so you can be sure you'll receive knowledgeable answers to all your motorcycle gear questions. We currently carry a variety of motorcycle helmets and safety gear. Custom works will be arriving shortly.

We offer Thursday Bike Nights, as well as MotoGP events. You'll also find us at local track events and setting up group rides. These events give us the opportunity to participate in the community and promote the store. We give our customers a glimpse into the Italian world of Dainese, while enjoying all forms of motorcycling.

There are multiple ways to commute to the Dainese Store Orlando, including car, motorcycle, SunRail, bus or bicycle. We are of course car and bike friendly. There is a large parking lot at the front of the store.

Florida offers motorcycle riders beautiful year-round weather, nearby ocean views, beaches, and theme parks. The store is also in a prime location for one of the country's largest motorcycle events, Daytona Bike Week.

Come see us today!
Dainese Orlando
100 W. Livingstone St.
Orlando, FL 32801
United States
Phone: 1-407-996-935

D-air® Premium Center

Helmet sanitization

Home Delivery

Garment sanitization