Motorbike

Bike

Winter

D-air®

Custom Works

AGV
Everyone has an important role in this great challenge. We do what we were born for: protect. For the safety of our customers and collaborators, with regret but great determination we have decided to keep our shops closed until the situation requires it. We will come back to sharing our passions together when this moment of emergency has passed. We can all do our part together.

In the meantime, our online store on dainese.com is always active: shipping, exchanges and returns are free on any order, until the stores are reopened.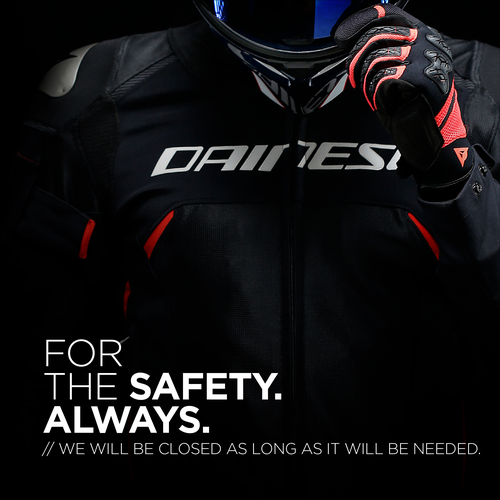 Dainese Store Lugano is the only official Dainese and AGV store in Switzerland, a reference for Swiss riders for several years already. From safe riding courses to the presentation of new products, from BBQs to end of season parties, our staff organize monthly events that have turned the store into a meeting place for bike enthusiasts and dynamic sport lovers alike.

The Dainese Lugano range includes all product lines, with a significant outlet space for promotional items and an area dedicated to the latest collections. The best of technical sports apparel and motorcycle, ski, bike and equestrian protection awaits you, as does our professional staff. Alberto, Mattia and Francesco are all passionate bikers who know how to provide the right assistance and help you experience the thrill of high speed before you even get in the saddle!

Located in the town of Gravesano, Dainese Store Lugano is close to the Lugano Nord highway exit: a strategic, easy-to-reach location even for those coming from the surrounding areas of Varese, Como or Milan.

What are you waiting for? Come and discover the quality of the AGV and Dainese collections as well as all the special initiatives!
Dainese Lugano
Via Al Fiume, 1
Gravesano 6929
Switzerland
Phone: +41 (0) 91 605 23 06

D-air® Premium Center

Helmet sanitization

Home Delivery

Garment sanitization