Motorbike

D-air®

Smart Jacket

Custom Works

AGV
Everyone has an important role in this great challenge. We do what we were born for: protect. For the safety of our customers and collaborators, with regret but great determination we have decided to keep our shops closed until the situation requires it. We will come back to sharing our passions together when this moment of emergency has passed. We can all do our part together.

In the meantime, our online store on dainese.com is always active: shipping, exchanges and returns are free on any order, until the stores are reopened.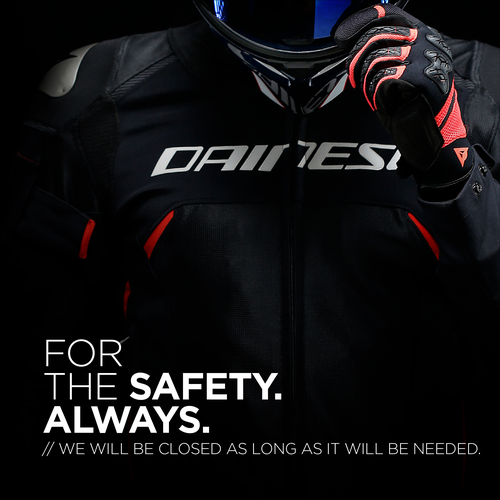 Our newly designed Dainese Store is located in Dortmund, in the heart of the Ruhr area. Easy to find, the tower of the coal mine "Minister Stein" shows the way to the Gewerbeparkstrasse 3-5, 44339 Dortmund.

All visitors, whether they come by motorbike or car, will find many parking spaces in front of and around the store.

For more than 19 years we have been the reference in motorcycle clothing, protectors and airbags, as well as helmets. With the highest know-how and rousing passion, we offer the unique collection of Dainese and AGV to all motorcyclists and safety-conscious sportspeople.

When it comes to individual, custom-made and personalized leather clothing for motorcycle sports on the racetrack and in road traffic, visitors can rely on the vast experience of the Dortmund Dainese team.

In addition to a wide range of services, from cleaning and repair service to airbag exchange for Dainese clothing, we organize many events throughout the year, including racetrack and touring events.

The Dainese Store Dortmund sees itself as a hub for the local motorcycle community and is looking forward to your visit.
Dainese Dortmund
Gewerbeparkstraße 3-5
Dortmund 44339
Germany
Phone: +49 231 847980

D-air® Premium Center

Smart Jacket Premium Center

Home Delivery