Motorbike

Bike

Winter

Equestrian

D-air®

Custom Works

AGV
Everyone has an important role in this great challenge. We do what we were born for: protect. For the safety of our customers and collaborators, with regret but great determination we have decided to keep our shops closed until the situation requires it. We will come back to sharing our passions together when this moment of emergency has passed. We can all do our part together.

In the meantime, our online store on dainese.com is always active: shipping, exchanges and returns are free on any order, until the stores are reopened.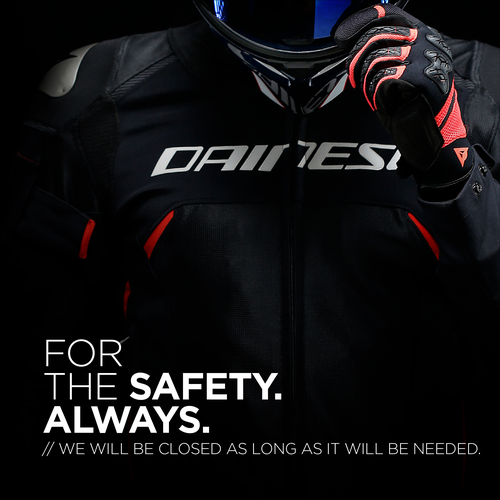 We are the reference point for all motorcycle, ski, bike and horse riding enthusiasts across Sicily: Dainese Store Siracusa offers the complete experience for those who want to get the best out of their bike and enjoy the thrill of dynamic sports!

In store we offer latest generation protection and technical apparel for the safety of all bikers, whether expert of amateur, as well as courses to teach safe road riding, first-aid, and the best use of navigation when planning your trips. Events include motorcycle club meets and the presentation of new motorbikes and product lines.

Dainese Siracusa is located near the gateway to the beautiful island of Ortigia. It is convenient for parking and easily reached from Catania and Ragusa. Peppe and Cristina, both motorcyclists, await you along with local motorcycle club members who arrange Saturday morning tours. Our staff is always on hand to provide racing suit and helmet sanitization and garment customization services.

Come and check out the vast array of AGV and Dainese lines: your passion for high speed starts here!
Dainese Siracusa
Via Elorina, 3b
Siracusa 96100
Italy
Phone: +39 0931-62144

D-air® Premium Center

Helmet sanitization

Home Delivery

Garment sanitization