Motorbike

Bike

Winter

Equestrian

D-air®

D-air® Ski

Custom Works

AGV
Everyone has an important role in this great challenge. We do what we were born for: protect. For the safety of our customers and collaborators, with regret but great determination we have decided to keep our shops closed until the situation requires it. We will come back to sharing our passions together when this moment of emergency has passed. We can all do our part together.

In the meantime, our online store on dainese.com is always active: shipping, exchanges and returns are free on any order, until the stores are reopened.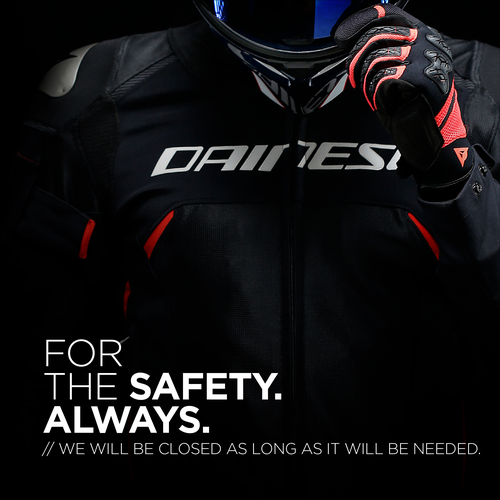 Dainese Store Düsseldorf is located near the famous Königsallee shopping district and not far away from the main station along the river Rhein.

We are the only Dainese store in the Düsseldorf area and a reference point for all motorcyclists who love this great Italian brand, and enjoy the highest standards of quality, comfort, materials and safety.

All Dainese product lines are available within the store. We are a proud Custom Works and AGV service point, and offer a helmet cleaning service to our riders.

We offer many events throughout the year, including racetrack and touring events. We also offer racetrack and riding lessons, as well as product trainings.

Dainese Store Düsseldorf is easily reachable by several modes of transportation, including bike, car, train or bus. It is extremely bike and car friendly. There is a parking area for bikes nearby and in the front of the store.

Our store is run by motorcycle enthusiasts, so our customers can be sure they are receiving knowledgeable answers. Alexander, Patrick, and Christopher are all avid riders.

In addition to our top-line motorcycle products, we offer Dainese apparel for skiing, bicycling and equestrian use. Come on in and see us today!
Dainese Duesseldorf
Graf Adolf Strasse 41
Duesseldorf 40210
Germany
Phone: +49 211 4939626

D-air® Premium Center

Helmet sanitization

Home Delivery

Garment sanitization