Motorbike

Bike

Winter

Equestrian

D-air®

D-air® Ski

Smart Jacket

Custom Works

AGV
Everyone has an important role in this great challenge. We do what we were born for: protect. For the safety of our customers and collaborators, with regret but great determination we have decided to keep our shops closed until the situation requires it. We will come back to sharing our passions together when this moment of emergency has passed. We can all do our part together.

In the meantime, our online store on dainese.com is always active: shipping, exchanges and returns are free on any order, until the stores are reopened.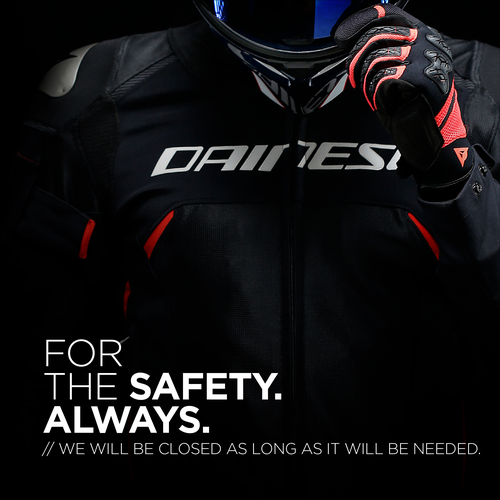 Dainese Store Bergamo is located within Oriocenter Selected Stores mall at Via Portico 71, close to the Milan Bergamo Airport and the Bergamo or Seriate exits off the A4 highway. It is a real reference point for both local and international bikers with motorcycling in their DNA but also for those who love winter sports. The store is located just a few minutes from the city center and is easy to get to for anyone coming from out of town.

The store has been set up according to the original design concept that architect Renato Montagner imagined for the Dainese retail network. It wants to offer a new experience for all dynamic sports fans: come and get a hands-on look at the motorcycle Sport, Touring and Urban collections and the Multisport lines!

So, saddle up and come see the collections of leading brands Dainese and AGV, and while you're there take advantage of all the initiatives planned specially for motorcycle and dynamic sports fans!
Dainese Bergamo
Unit 1.24 Oriocenter, Via Portico 71
Orio al Serio (BG) 24050
Italy
Phone: +39 035 4596461

D-air® Premium Center

Helmet sanitization

Home Delivery

Garment sanitization