Motorbike

Bike

Winter

Equestrian

D-air®

Custom Works

AGV
Everyone has an important role in this great challenge. We do what we were born for: protect. For the safety of our customers and collaborators, with regret but great determination we have decided to keep our shops closed until the situation requires it. We will come back to sharing our passions together when this moment of emergency has passed. We can all do our part together.

In the meantime, our online store on dainese.com is always active: shipping, exchanges and returns are free on any order, until the stores are reopened.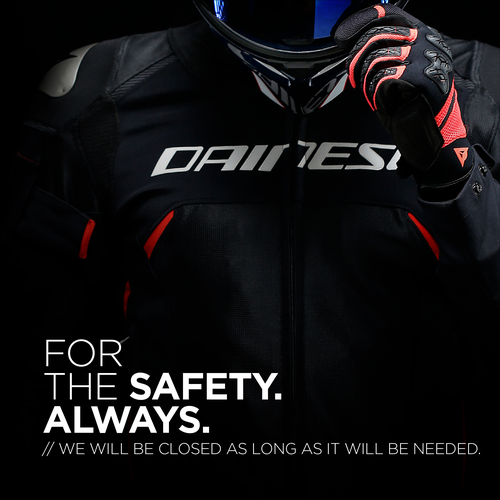 Dainese Store Corbeil-Essonnes is the Paris area's go-to choice for top-line Italian motorcycle accessories.

Located in Corbeil-Essonnes, we are 35km south of Paris and 17km from the Orly Airport, in a convenient shopping location. The store is a reference point for all sorts of motorcyclists in the area, and we are the only Dainese outlet within 20km.

We have a large parking area to accommodate both cars and motorcycles. We are also staffed with motorcycle enthusiasts, so you can be sure that you'll get a knowledgeable answer to your motorcycle questions. Valery and Liza are both riders.

There are a number of unique offerings that set our store apart. We offer a helmet cleaning service, and we have a rack where we can store helmets as customers walk into the store.

Dainese Store Corbeil-Essonnes is invested in the local motorcycle community and have several events organized throughout the year. Twice a year we have large motorcycle events with partner stores that include trials, clubs, and food trucks. We participate in Security Days, and once a year Dainese brings in a driver or a truck.

We also participate in several motorcycle shows, and do a once a year motorcycle ride with guests. All of our events are organized during prime riding weather from March through October.
Dainese Corbeil-Essonnes
5 Rue Jacques Anquetil - Z.a. Espace Coquibus
Corbeil-essonnes 91100
France
Phone: +33.(0)1.60.88.04.21

D-air® Premium Center

Helmet sanitization

Home Delivery

Garment sanitization