Motorbike

Bike

Winter

Equestrian

D-air®

D-air® Ski

Custom Works

AGV
Everyone has an important role in this great challenge. We do what we were born for: protect. For the safety of our customers and collaborators, with regret but great determination we have decided to keep our shops closed until the situation requires it. We will come back to sharing our passions together when this moment of emergency has passed. We can all do our part together.

In the meantime, our online store on dainese.com is always active: shipping, exchanges and returns are free on any order, until the stores are reopened.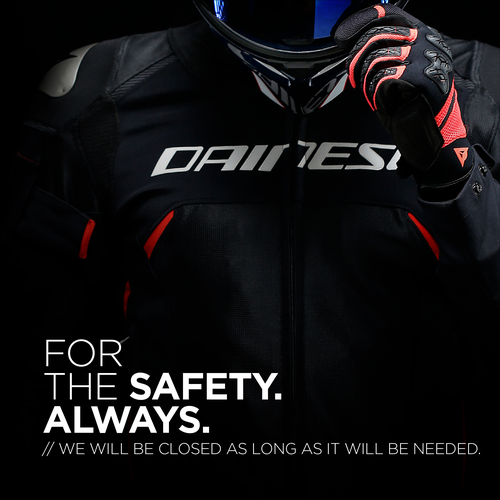 A Mecca for all bikers and lovers of dynamic sports, Dainese Store Roma is located in the historic city center, just a stone's throw from Piazza del Popolo. Easy to reach on the metro, stopping at the Flaminio station, or with your own vehicle as it is located outside the 'ZTL' restricted traffic zone, the store is the only motorcycle, ski, bike and equestrian apparel shop in the center of Rome and the only official store in the area for the Dainese and AGV brands.

We have a passion for speed, safety and technical quality. For this reason, Dainese Roma organizes in-store events with riders, actors and professionals from the worlds of sport and show-business, from the presentation of new ski and motorcycle collections to parties linked to the café racer world. We also offer numerous courses, including road and track riding, first-aid, motorbike maintenance and road safety.

The staff, headed up by Leonardo and Michela, are all passionate bikers, skiers, snowboarders or MTB riders. Our direct experience allows us to help all of our customers with personalized assistance, also offering the free repair and sanitization of technical motorcycle apparel and helmets of any brand.

Come and check out the new collections and outlet area at the Dainese Store Roma: in the heart of the city, our passion for bikes beats loud and strong!
Dainese Roma
Via della penna 13/21
Roma 00186
Italy
Phone: +39 06-36003678

D-air® Premium Center

Helmet sanitization

Home Delivery

Garment sanitization