Motorbike

Bike

Winter

Equestrian

D-air®

D-air® Ski

Custom Works

AGV
Everyone has an important role in this great challenge. We do what we were born for: protect. For the safety of our customers and collaborators, with regret but great determination we have decided to keep our shops closed until the situation requires it. We will come back to sharing our passions together when this moment of emergency has passed. We can all do our part together.

In the meantime, our online store on dainese.com is always active: shipping, exchanges and returns are free on any order, until the stores are reopened.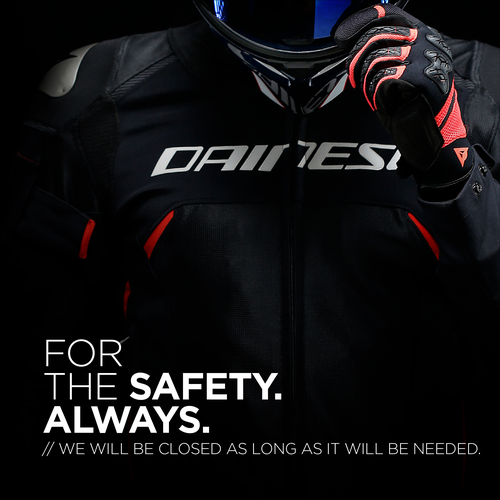 Dainese Store Berlin is located in Berlin's Charlottenburg-Wilmersdorf district, in a great shopping area at the heart of this beautiful, historic European city.

We are the only official Dainese store in Berlin, and we are passionate about bringing the Italian motorcycle world into the heart of Germany. We offer the best in helmets, gloves, shoes, boots and other protective equipment for riders of all types.

We are a store run by motorcycle enthusiasts, so you can be sure that you'll find knowledgeable answers to your questions. Our store manager Vanessa is an enthusiastic motorcyclista, traveling around Europe by bike. She can be seen almost every day in and around Berlin on her motorcycle. Our assistant store manager Wendy can also be found riding her bike on the local tracks. She is also an avid horse rider. Our sales associates Lucas and Bjorn are passionate about bikes as well. It also helps that we are all young and very good looking!

Dainese Store Berlin serves as a hub for the local motorcycle community. We host group rides, and we are looking at in-store safety trainings in the future.

We are located in the heart of Berlin, and you can easily find us by following Hohenzollerndamm, one of the city's main streets. We are of course biker friendly, and you can leave your bike in front of the store. Come in and see us today!
Dainese Berlin
Hohenzollerndamm 12
Berlin 10717
Germany
Phone: +49 30 29672222

D-air® Premium Center

Helmet sanitization

Home Delivery

Garment sanitization