Motorbike

Bike

Winter

D-air®

Custom Works

AGV
Everyone has an important role in this great challenge. We do what we were born for: protect. For the safety of our customers and collaborators, with regret but great determination we have decided to keep our shops closed until the situation requires it. We will come back to sharing our passions together when this moment of emergency has passed. We can all do our part together.

In the meantime, our online store on dainese.com is always active: shipping, exchanges and returns are free on any order, until the stores are reopened.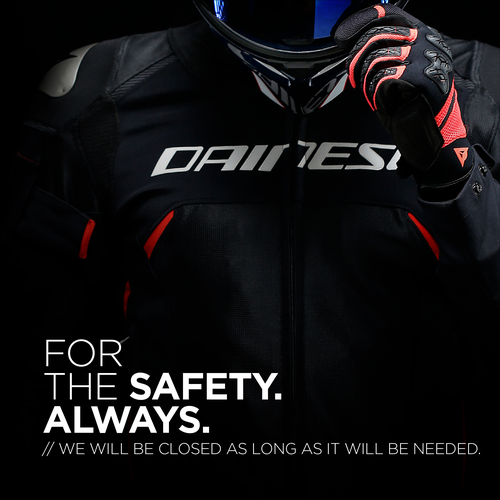 Dainese Store Orange County is located in sunny Southern California, with beautiful mountains, beaches and urban views nearby. We are the only Dainese retail location in the southern part of the state, and offer a large collection of Dainese products.

Our store is owned and operated by motorcycle enthusiasts, so you can be sure that you are talking with someone knowledgeable who also shares your passion. We are frequent participators in track day events, out promoting our store wherever we can.

Some of our in-store events include: riding clinics, weekend group rides through beautiful local scenery, televised MotoGp and WorldSuperBike Races, social events, in-store custom bike shows and women-specific events.

Dainese Store Orange County also offers a number of special services, making us the go-to destination for motorcycle needs. We offer custom works tailor measurements for custom garments, and a sanitizing station for helmets and gloves. We also have a complementary espresso and beverage bar available for our customers.

We carry the largest selection of Dainese gear and bike products available, as well as AGV helmets. The store is easily accessible by bike, motorcycle or car. There is also a dedicated lot next to the building for your convenience. Stop by and see us!
Dainese Orange County
1645 Superior Avenue
Costa Mesa 92627
United States
Phone: 949-650-2300

D-air® Premium Center

Helmet sanitization

Home Delivery

Garment sanitization