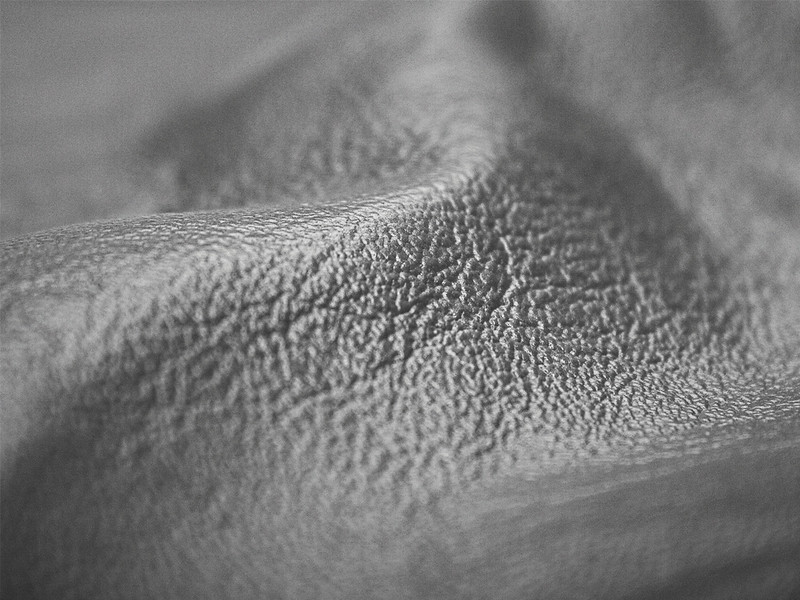 KANGAROO HIDE
Kangaroo hide is the safest and lightest leather initially used exclusively in the world of motorcycle racing and now available to everyone. This material is extremely thin while providing the same excellent performance of other leathers, thanks to its excellent resistance to abrasion, cut and tear, coming from its natural strength. Its thickness and softness guarantee maximum comfort and freedom of movement. Kangaroo hide leather is normally around 0.9 mm thick.
Read more
Read less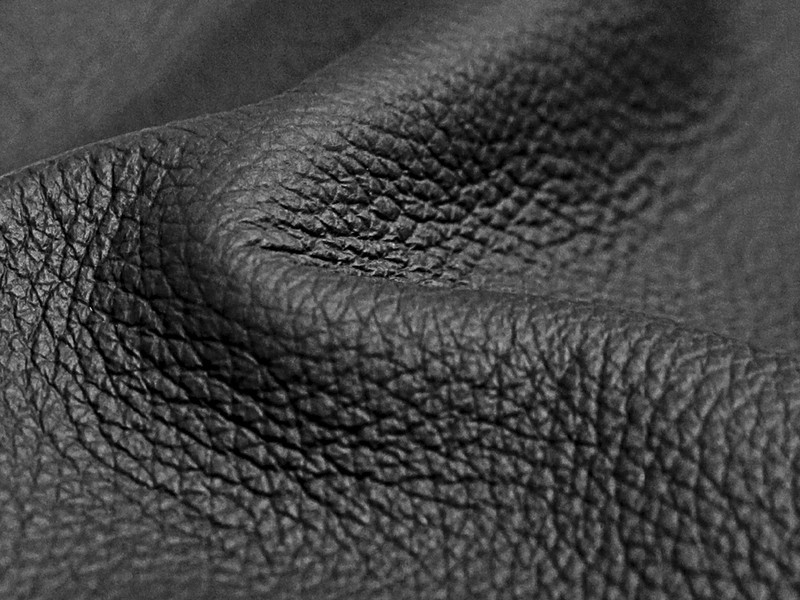 D-SKIN 2.0 LEATHER
D-Skin 2.0 represents a further level of excellence achieved by the D-Tec Department. This material reaches new standards in terms of abrasion, traction and tear resistance while being extremely comfortable thanks to its softness and flexibility. D-Skin 2.0 is made of strictly selected full grain cowhide leather, characterized by long intact fibers. It maintains the same thickness of other cowhide leathers present in the collection. Special treatments with resins and silicon waxes enhance the technical features of this excellent leather. D-Skin 2.0 Leather is normally between 1.1-1.3 mm thick.
Read more
Read less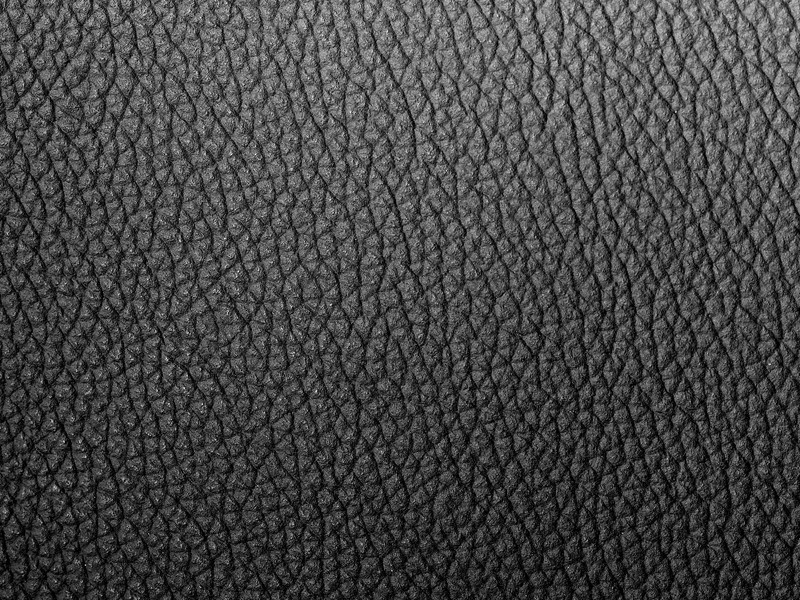 TUTU LEATHER
Tutu leather is a cowhide leather developed and engineered to ensure high performance levels in terms of abrasion, tear, cut, and traction resistance. Selected premium quality raw materials guarantee extreme comfort, while ensuring the best performance even when exposed to extreme conditions thanks to its water- and oil-repellent properties.
Read more
Read less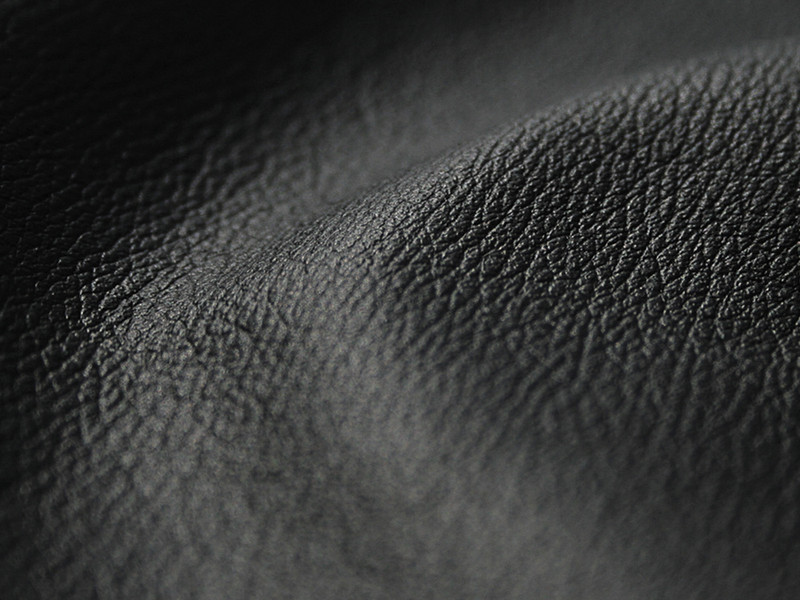 MICROFIBER
Microfiber is a non-woven fabric in polyurethane and polyamide that boasts exceptional resistance to wear, tear, and shear. This particular product is also distinguished by its softness, flexibility, light weight and water-repellent properties.
Read more
Read less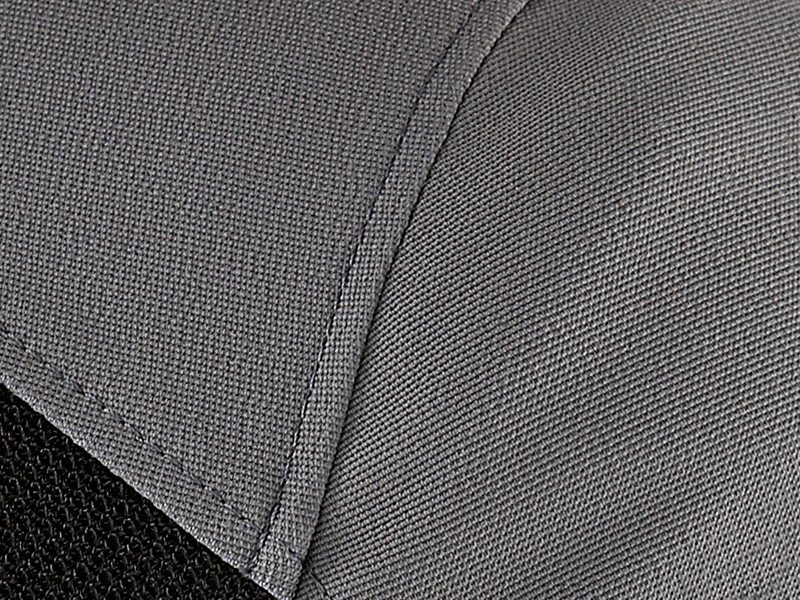 MUGELLO FABRIC
Mugello Fabric is a textile material made of micro nylon and elastomeric fabric. This gives the material both wear and tear resistance and makes it highly comfortable, thanks to its ability to extend and then return to its original form, ensuring great freedom of movement. Nanotechnologies are applied to this material so that air drying alone is sufficient to restore its oil- and water-repellent properties, eliminating the need to iron the garments.
Read more
Read less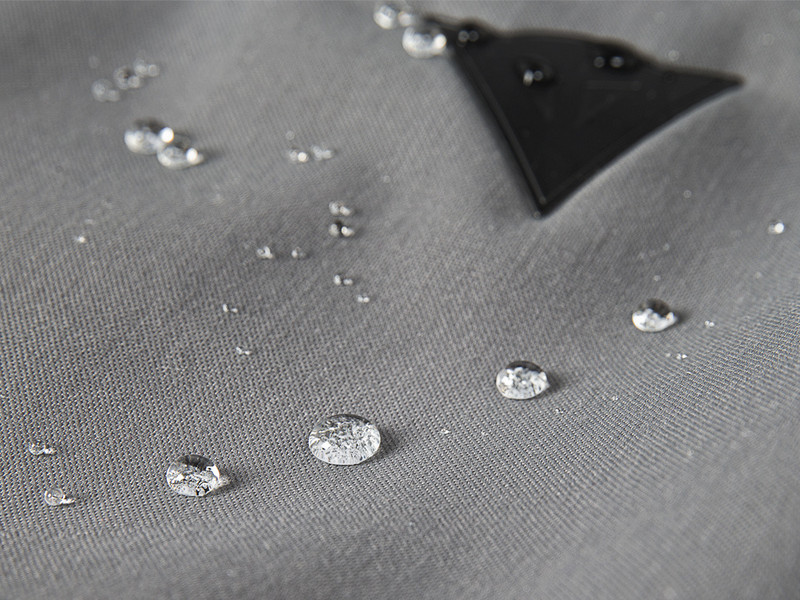 PERFORMANCE TEXTILE
Dainese performance textiles are characterized by excellent abrasion and tear resistance, but without neglecting comfort features such as breathability and light weight. Special treatments give the textile excellent water- and oil-repellent properties, developed through nanotechnology research and applied during the textile finishing process.
Read more
Read less
D-WP MATERIAL
D-WP is a material developed exclusively for footwear and ensures maximum comfort in any weather condition. Products designed with D-WP technology offers excellent waterproof and water-repellent properties, and performance is guaranteed by the specific structure of the material and by special surface treatments. D-WP textiles undergo rigorous testing to simulate the reaction of products to different weather conditions and to different stresses.
Read more
Read less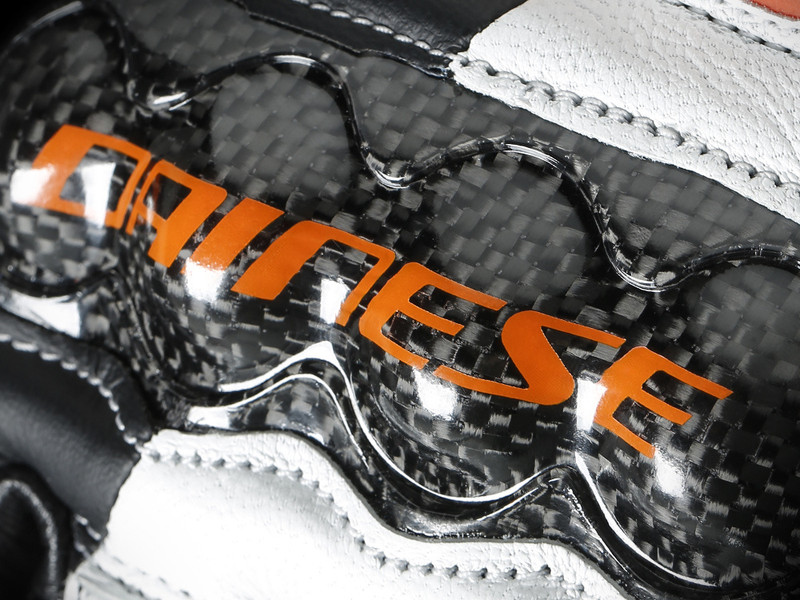 CARBON COMPOSITE FIBER
This composite material is made of woven carbon filaments immersed in resin and then solidified to create an extremely lightweight fiber that also boasts great structural rigidity.
Read more
Read less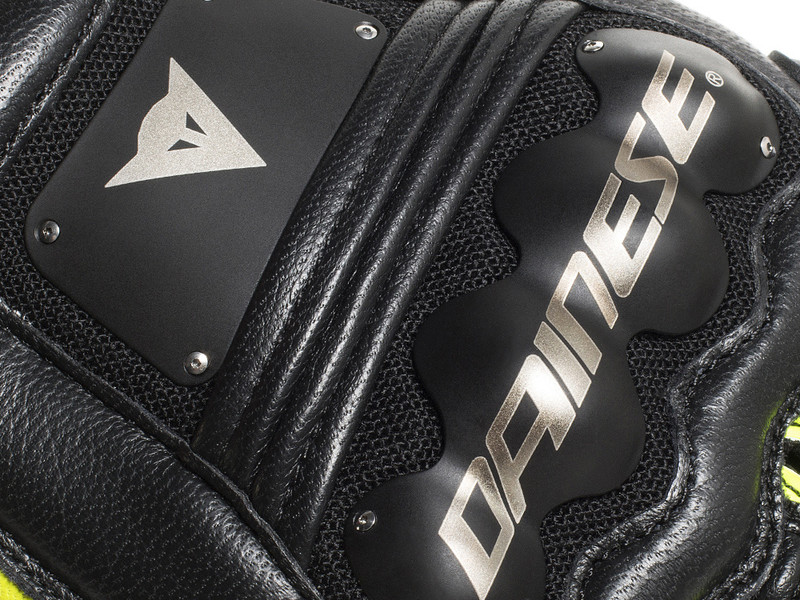 METAL INSERTS
The use of metal inserts made of titanium, steel, aluminum or special alloys offers greater abrasion resistance in the joint areas of the body, reduces the risk of dangerous twists and/or tumbling during a fall, and distributes impact force over a wider surface area.
Read more
Read less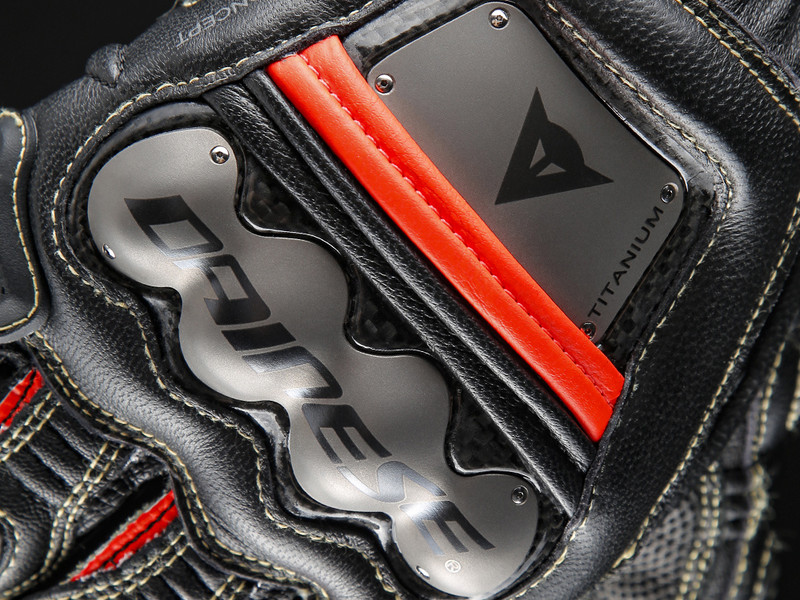 TITANIUM
This metal boasts an elevated strength/weight ratio, high resistance to both mechanical stress and corrosion, and excellent thermal conductivity. The use of this precious material in protective inserts represents the latest state-of- the-art technology, as thanks to its low asphalt friction coefficient it reduces the risks of a rider rolling/getting stuck somewhere during a fall, ensuring greater protection.
Read more
Read less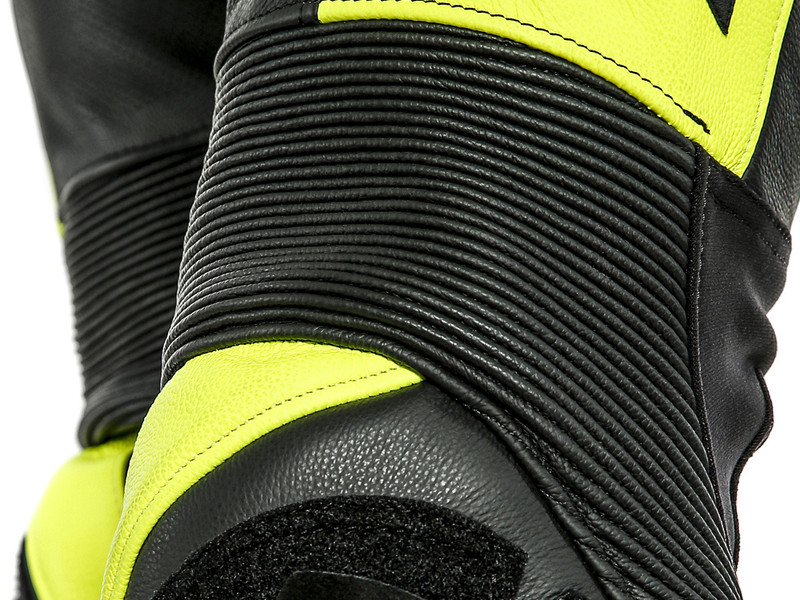 ELASTICATED INSERTS
Elasticated inserts positioned in the most strategic locations that improve the garment's capacity for adaptation to the body as it changes shape and moves while riding.
Read more
Read less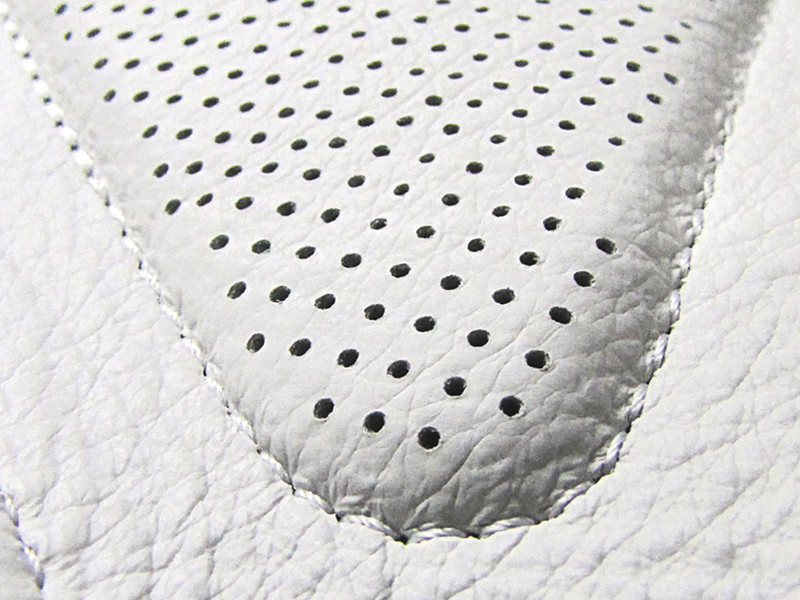 LOCALIZED PERFORATION
Dainese patented technology that allows to localize perforation only in those areas where aeration is absolutely necessary and away from seams, guaranteeing greater safety and comfort.
Read more
Read less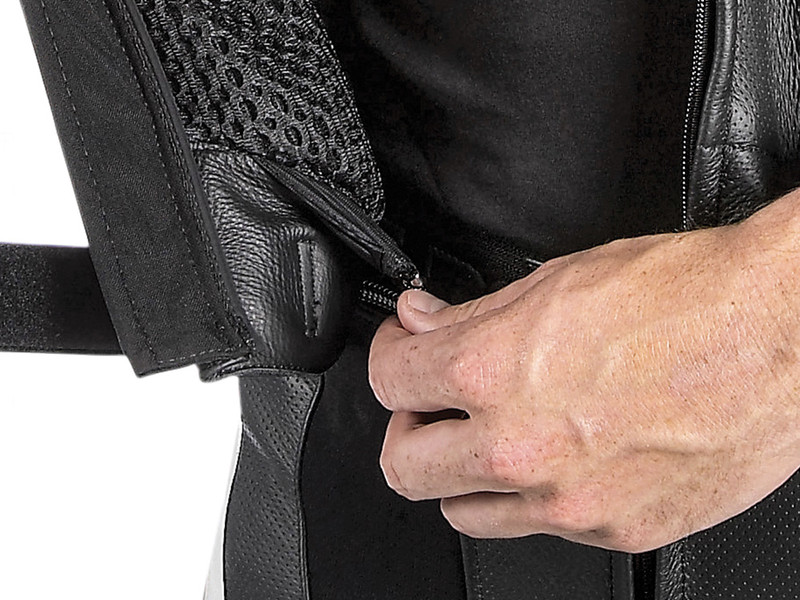 JACKET-TROUSERS FASTENING SYSTEM
Fastening the jacket to the pants with a zipper increases both ergonomics and comfort by eliminating all chances of air infiltration and ensuring that both garments fit the body appropriately in every situation
Read more
Read less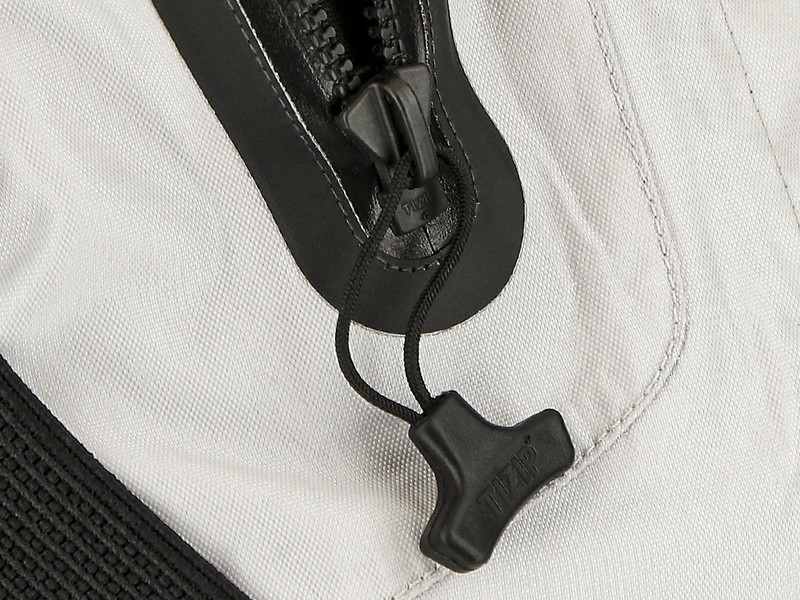 TIZIP®
The TIZIP® MasterSeal is made of high-strength fabric coated with thermoplastic polyurethane. The extra strong plastic teeth are fixed to the zipper tape's top and bottom. The zipper's coupling elements keep the edges tightly sealed together when the zipper is closed. The zipper tape can be both welded and glued.
Read more
Read less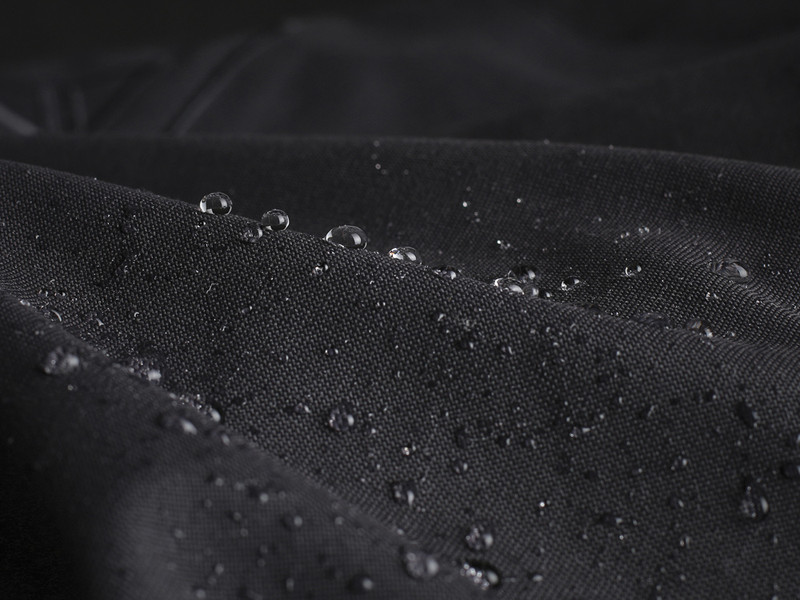 MEMBRANE LAMINATED WITH OUTER FABRIC
The fabric is laminated directly to the membrane and provided with heat-sealed internal seams. In addition to guaranteeing qualities of breathability and a waterproof, windproof seal, this construction significantly reduces the item's weight, protects the body from rain and wind chill, and dries quickly.
Read more
Read less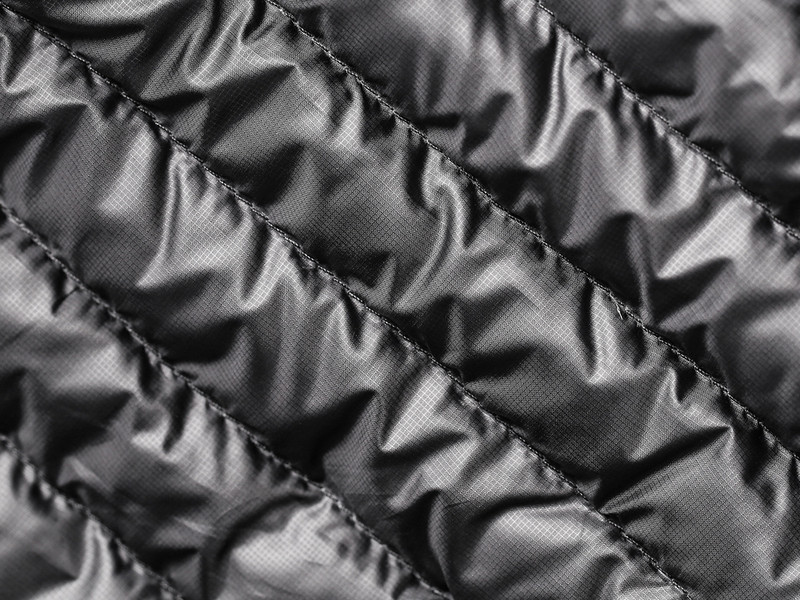 700 FILL POWER GOOSE DOWN
Fill Power is the volume-to-weight ratio of goose down filling that provides a clear indicator of product quality. The loftier the individual plumes are, the fewer are needed to obtain the desired volume. Consequently, the higher the Fill Power, the higher the down's quality: high volume, low weight. 700 Fill Power provides motorcycle garments with exceptional insulation as well as the highest degree of lightness.
Read more
Read less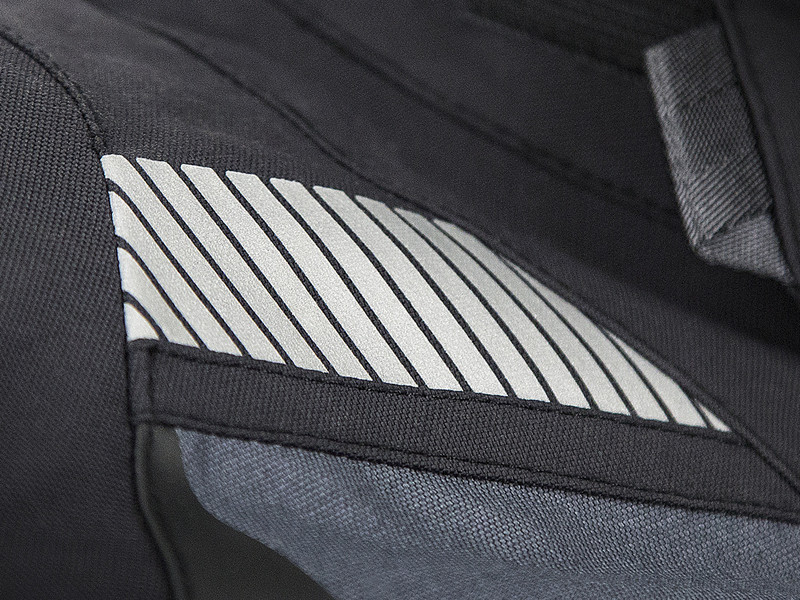 3M™ SCOTCHLITE
Scotchlite is a special refractive material produced by 3M Company. Thanks to its particular flexible structure made of glass micro-beads combined with a reflective layer on the back part of the stripe, the sheeting glows brightly when it reflects a light source and the glow is caught within a small angle of vision of the wearer's eye, but appears non-reflective when viewed from other directions. This is extremely useful for safety purposes, as it significantly increases the visibility of clothes at night.
Read more
Read less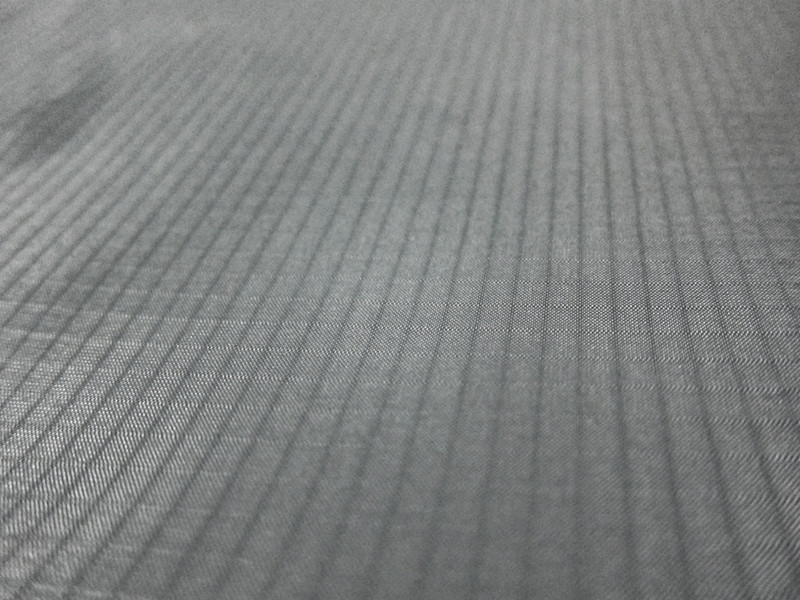 RIPSTOP FABRIC
Ripstop is a woven fabric made resistant to tearing and ripping by a special reinforcing technique. It is woven with coarse, strong warp and filling yarns at intervals so that tears do not spread. Ripstop also features a good DWR (Durable Water-Repellent) coating.
Read more
Read less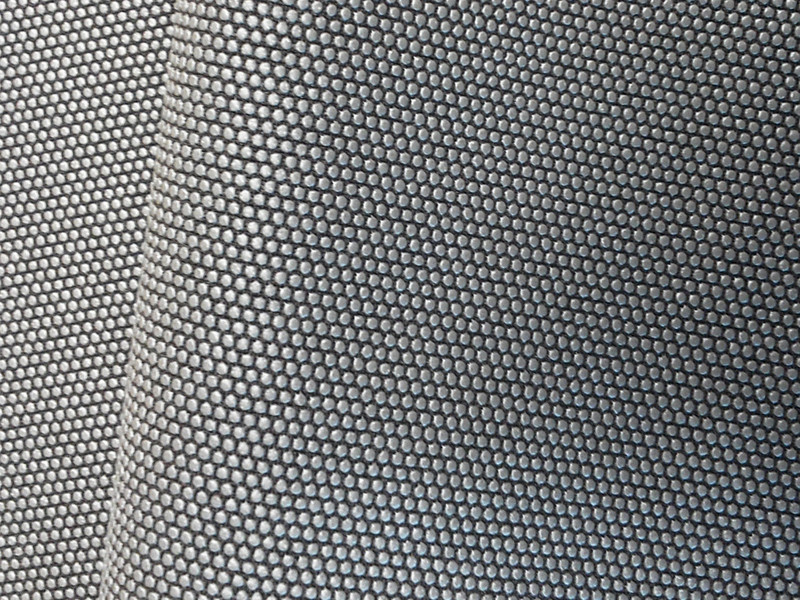 SUPERFABRIC®
SuperFabric® is among the most durable, toughest fabric in the world, an innovative ceramic-coated low friction material that can provide very high levels of abrasion and slash resistance. SuperFabric® technology takes a fabric and overlays it with tiny plates ("guard plates") in a specific arrangement. The gaps between guard plates allow complete flexibility. It won't snag like knitted fabrics, which is especially important in helping protect against the additional injuries caused by material catching or pulling. It allows air to pass in and around the tiny guard plates creating a remarkable air-breathing product.
Read more
Read less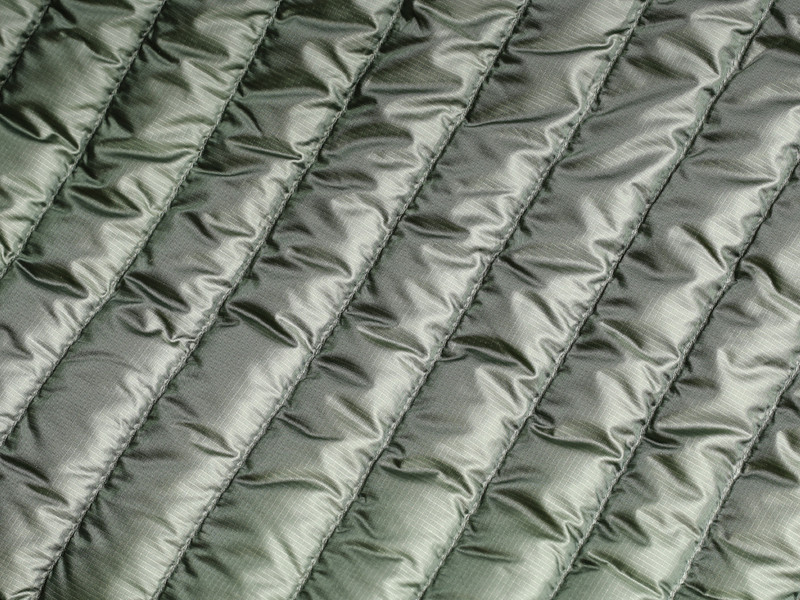 PERTEX® QUANTUM
Pertex® Quantum uses a tightly woven structure to provide a light and soft fabric that allows insulation to fully loft. Precisely constructed from incredibly fine yarns, Pertex® Quantum fabrics are designed to trap still air and improve the efficiency of insulation. A durable water-repellent (DWR) finish protects from light rain and snow, providing additional weather protection. Garments made with Pertex Quantum are very lightweight and easy to pack, soft to the touch and windproof to retain warmth.
Read more
Read less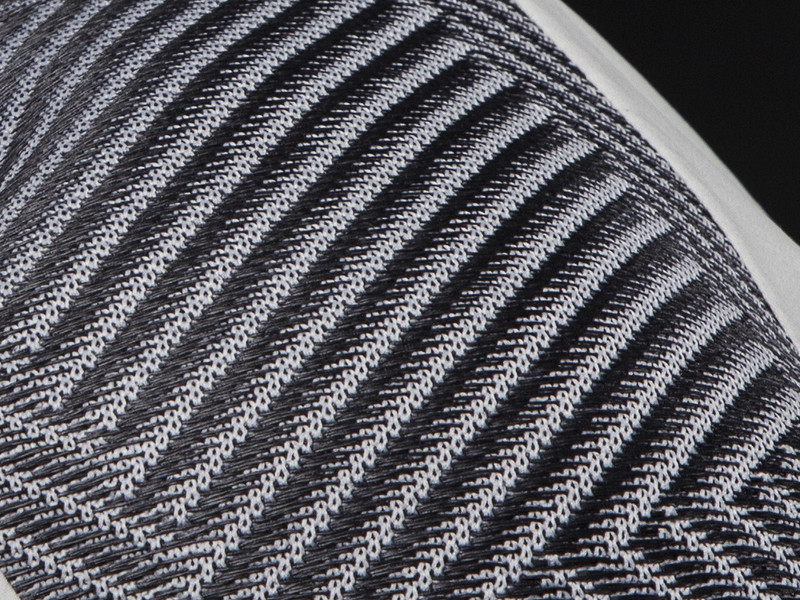 WOVEN
Innovative materials and finishes for ultimate protection plus maximum freedom of movement. Dainese Woven technology uses special electronic knitting machines to integrate glass and polyester fibers into the fabric. These are positioned on the most exposed areas of the garment to offer incomparable resistance against sharp objects and friction. All this whilst maintaining an exceptionally soft texture and excellent elasticity. Positioned on the outer surface of the fabric, the glass fibers offer superb abrasion resistance. The polymer fibers, integrated into the inner surface of the fabric, ensure optimal elasticity so that the garment can follow the shape of the body with exceptional precision, meaning maximum comfort and a flawless fit.
Read more
Read less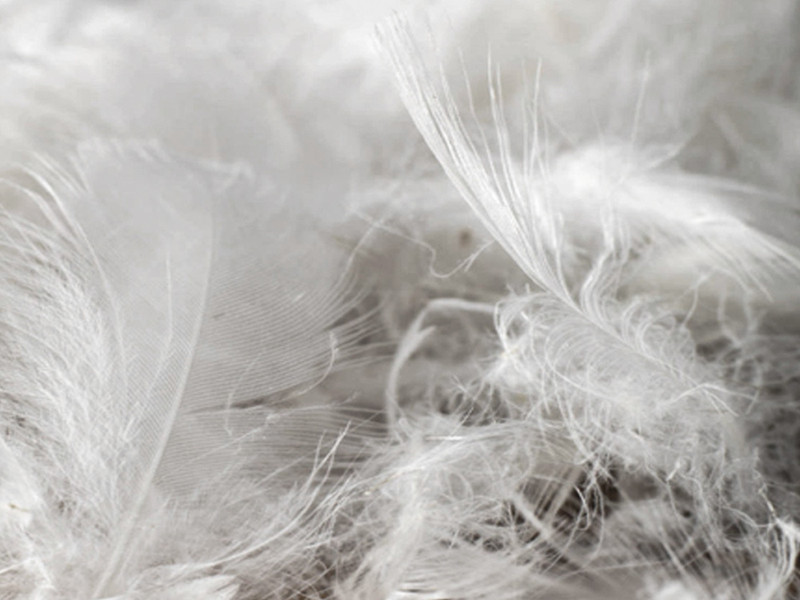 GOOSE DOWN
Goose down is the layer of underplumage that geese have beneath their feathers to keep them warm and dry. A down cluster is soft and fluffy and has filaments growing in all directions. Unlike feathers, down does not have quills. Goose down is traditionally used to fill pillows, duvets and other types of bedding. Goose down clusters are superior as they are larger and therefore possess more fill power and have better insulating properties than down from any other bird. Goose down is luxuriously soft, resilient and has excellent insulating properties. It varies in color from white to dark gray. It is also extremely breathable. Water vapor can pass through the down whilst the air pockets retain their warmth.
Read more
Read less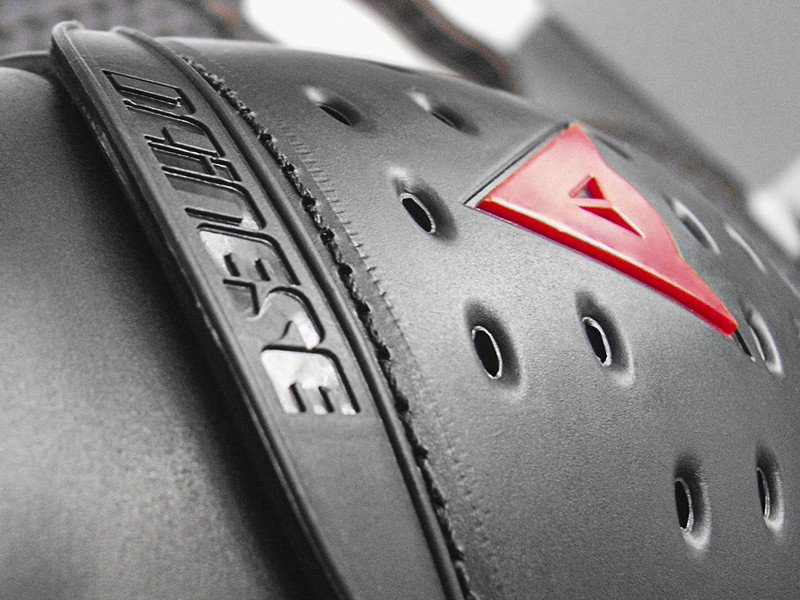 POLYPROPYLENE HARD-SHELL
Synthetic polymer used to produce the hard shell plates in protectors. Distinguished by high resistance to abrasion and impact. With their special construction, composite plates on the shoulders, elbows and knees comply to EN 1621.1/97 standards. The rigid external shell absorbs and distributes impact energy over the protector's entire surface thanks to a patented reticulate structure that also offers lower thickness and weight.
Read more
Read less