Designed to protect you, on every road
The intelligent Dainese protector, designed for road use. From the technologies used in MotoGP™, the electronic D-air® Road system has been developed to meet the specific needs of all motorcycle riders, on all types of road route. The electronic control unit and accelerometers, gyroscopes and GPS work in concert so that the D-air® system can recognize and detect dangerous situations, activating the airbag before the impact occurs and protecting the most vulnerable areas of the rider's torso.

From mountain passes to city streets, it's superior protection, so you can experience every journey with only the route in mind.
SHOP THE COLLECTION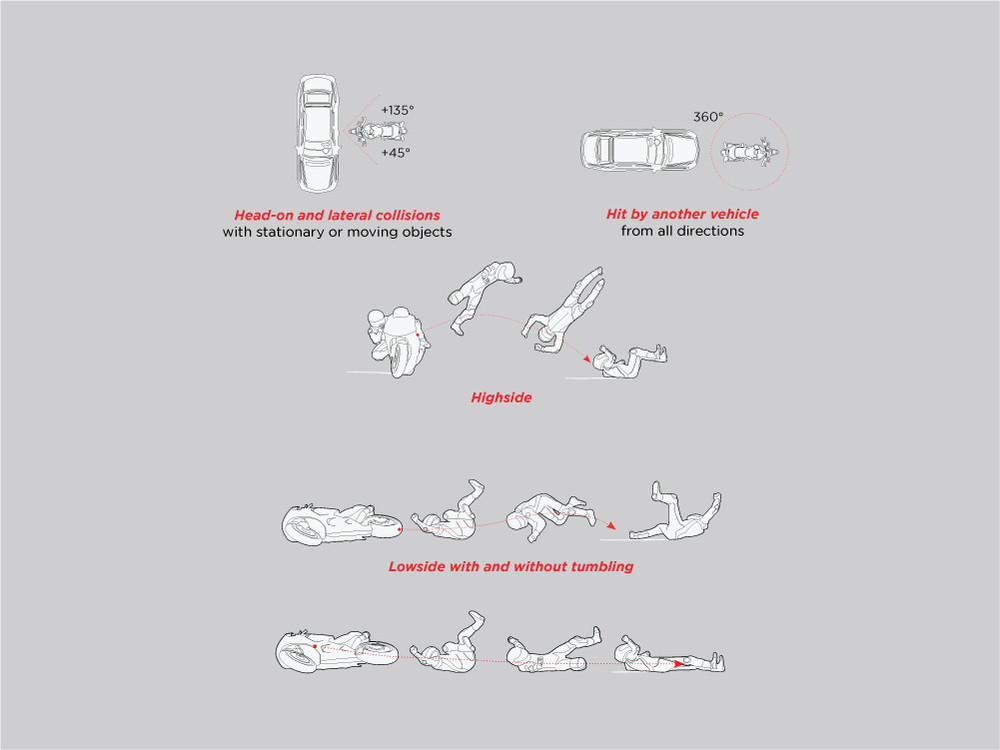 Designed for the road​
Detection and activation: Dainese D-air® has an intelligent algorithm that allows it to recognize the dynamics of a fall and activate according to different dangerous situations.

Frontal and side collisions: From all directions

Highside: The rider is thrown off the bike due to rear wheel slip followed by immediate recovery of grip.

Lowside with and without rolling: The front or rear wheel loses grip and the rider rolls or slips.

BATTERY
CHARGING
Fully charged in 4 hours

BATTERY
AUTONOMY
Up to 26 hours in stand-by,
8 hours in use

LED
INTERFACE
Visualizes system operating status

STAND-ALONE
SYSTEM
No connection needed
PLEASE NOTE: Read the product manual carefully before use.
For maintenance, always contact Dainese customer service or go to an authorized Dainese D-air® dealer.
DOWNLOAD USER MANUAL
The notice refers to the Dainese Smart Chest protector on the chest, CE ​​certified, Category II - Level 2 by the Certification Body authorized by the Government Authority. For further details please read the product user manual.