Full Cleaning Service Leather Jacket
Full Cleaning Service Leather Jacket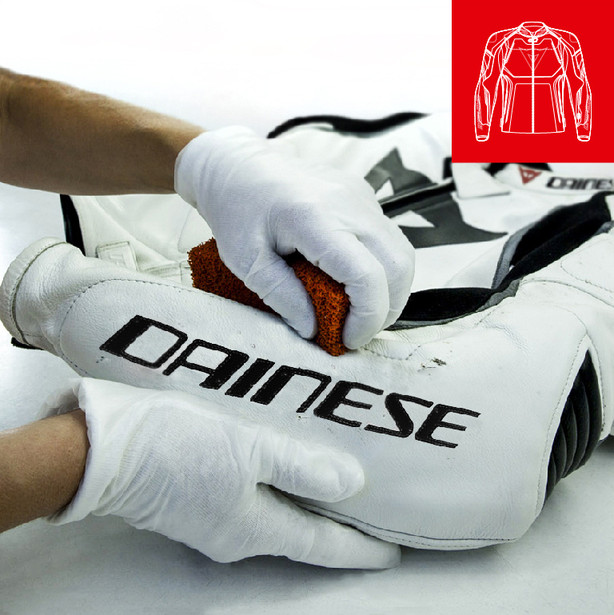 This service involves specialist cleaning of leather jacket's leather cover and sanitization of interior with nourishing leather treatment. The cost includes expenses for picking the garment up and sending it back after cleaning.
Read more
BACK
This leather jacket full cleaning service is dedicated to all those who want to renew their Dainese leather garment, entrusting it to the care and experience of our technicians and professional craftsmen. Specifically, the service involves specialist cleaning of the leather cover, sanitization of the interior and nourishing leather treatment. The cost includes expenses for picking the garment up and sending it back after cleaning. The cost of the service includes a charge for return shipping expenses, inspection, repair and sanitization of the product (Dainese Policy). A Dainese gadget will also be included. This service, offered by Dainese, IS NOT a laundry service. This is a craft, leather-care treatment which thoroughly cleans and nourishes it. Our service is intended for used leather garments, which have a "life experience" that can be extended over time if maintained appropriately. The result of the treatment is inevitably affected by the condition of the garments when they are sent and how they have been kept over time. This will not make your leathers like new!

HOW DOES IT WORK?:

Once Dainese has seen the Full Cleaning Service Leather Jacket request via order on our dainese.com website, the Dainese Consumer Care Team will contact you and provide you with a label for a courier in order to send the garment to the Dainese After Sales center in Italy. TIMING:

On average, Dainese will take between 10 days and two weeks from picking up the garment from the customer to inspection, airbag replacement and sending back to you. It may take longer if extra repairs need to be made.

IMPORTANT NOTES:

This service is not available for D-air® products that haven't deployed.

Dainese reserves the right to reject, or return unrenewed, garments sent in critical hygiene conditions, in particular with mold, bloodstains or residual dirt that has thoroughly penetrated the leather and stitching. The Service is only offered for all-leather items, not mixed fabrics (no leather/fabric, no split leather inserts). Dainese do not accept garments that have been altered/changed by third parties without authorization by Dainese.

Should more than one repair service be purchased for the same garment, there will in any case be no refund of the charge for shipping expenses.

In case it is not possible to do the service because of the conditions of the garment (for example because the garment presents damages related to very large areas resulting in the safety of the product being compromised; or the garment went through any form of tampering and/or alteration or any change not authorised by Dainese; or the garment has reached an extreme level of wear so much that the eventual cleaning might cause extra damage) Dainese will send back the garment to the customer without fulfiling the Service originally requested. A partial refund will be issued as Dainese will keep the contribution for the shipping costs.
Contact our Consumer Care team for any information.

Please contact our Consumer Care Team for further information.
BACK
CREATE THE PERFECT OUTFIT FOR YOU
Choose carefully designed clothes and accessories that will complete your look.