Motorbike

Bike

Winter

Equestrian

D-air®

D-air® Ski

Custom Works

AGV
Sicherheit geht vor. Immer.
Daher wird unser Store wird ab sofort geschlossen bleiben, solange es nötig ist.
Jeder von uns spielt eine wichtige Rolle bei dieser großen Herausforderung. Wir tun das, wofür wir geboren wurden und an was wir tagtäglich arbeiten: zu schützen. Für die Sicherheit unserer Kunden und Mitarbeiter haben wir mit Bedauern, aber großer Entschlossenheit beschlossen, unser Geschäft so lange geschlossen zu halten, wie die Situation es erfordert. Wir werden unsere Leidenschaften wieder gemeinsam teilen, wenn dieser Moment der Notlage vorüber ist. Wir können alle gemeinsam unseren Teil dazu beitragen.

In der Zwischenzeit ist unser Onlineshop dainese.com weiterhin für euch da. Versand, Umtausch und Rückgabe sind bei jeder Bestellung kostenlos, bis das Geschäft wieder geöffnet hat.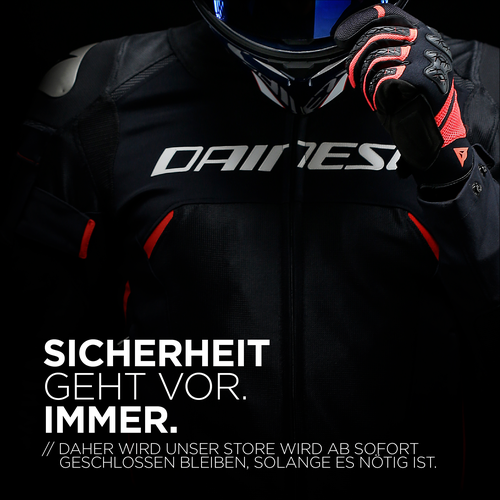 The first Dainese & AGV flagship is now open in Graz. The new store is the reference point for those who loves dynamic sports. Come and get a hands-on look at our motorcycle, ski and bike collections.

The staff are ready to take your measurements and customize clothing in the dedicated Custom Works area. There are tons of options for creating your own made-to-measure technical apparel, especially with the wide range of materials, colors, lettering and patches. So, saddle up and come see the collections of leading brands Dainese and AGV!
Dainese Graz
Otto Baumgartner Straße 3
Graz 90401
Austria
Phone: +43 316 225742

D-air® Premium Center

Helmet sanitization

Home Delivery

Garment sanitization