SPORT PRO LEATHER JACKET PERF.
$579.95
- 20%
$463.96
(USD)
Promotions
Images
- 20%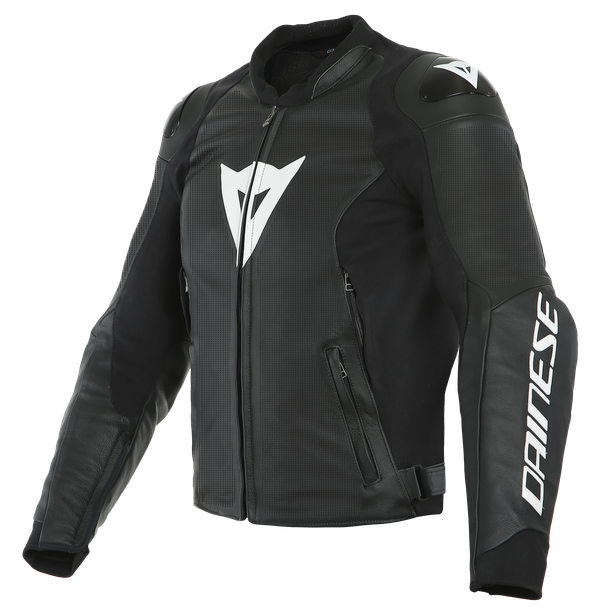 SPORT PRO LEATHER JACKET PERF.
Details
https://www.dainese.com/us/en/motorbike/jackets/leather/sport-pro-leather-jacket-perf.-201533868.html
ID N° 201533868
Variations
Color Options: Black/White
Sports jacket in perforated cowhide. Offering an athletic fit, it features interchangeable aluminum plates on the shoulders, Pro Armor protectors at the shoulders, and composite protectors at the elbows.
Read more
DESCRIPTION

BACK

Sport Pro is the Dainese premium cowhide jacket with a sports fit. With a slim fit, it is designed for those seeking an athletic-cut garment that is able to trace the movements and curves of the rider's body. Its specific fit at the chest, shoulders and neck makes for a garment that offers unique ergonomics, comfort and lightness. Protection comes in the shape of Pro Armor inserts at the shoulders that guarantee both flexibility and lightness. Pro Armor works in synergy with the interchangeable aluminum shoulder plates, a hallmark of Dainese sports products, which offer the best protection against impact and support any sliding along the asphalt in the event of a fall. Unlike plastic materials, metal offers excellent abrasion resistance, does not degrade during a slide and does not trigger any dangerous rolling or twisting of the joint. Certified composite inserts protect the elbows. The safety equipment is completed with pockets to accommodate a model G back protector and chest protectors. Localized perforation of the leather panels ensures comfort on the hottest of days. Perforation is positioned only in strategic areas, away from the seams and areas most exposed to abrasion.



MATERIAL AND CARE

COMPLETE THE LOOK

BACK

CREATE THE PERFECT OUTFIT FOR YOU

Choose carefully designed clothes and accessories that will complete your look.

SIZE GUIDE

BACK

Sizes displayed on the website are European sizes

Select here your preferred measurement:

Euro
44
46
48
50
52
54
56
58
60
62
64
Alpha
S
S
M
M
L
L
XL
XL
2XL
3XL
4XL
USA-UK
34
36
38
40
42
44
46
48
50
52
54
Height

166

-

169

169

-

172

172

-

175

175

-

178

178

-

181

181

-

184

184

-

187

187

-

188

188

-

189

189

-

190

190

-

191

Chest

86

-

90

90

-

94

94

-

98

98

-

102

102

-

106

106

-

110

110

-

114

114

-

118

118

-

122

122

-

126

126

-

130

Arm

56

-

57

57

-

58

58

-

59

59

-

60

60

-

61

61

-

62

62

-

63

62

-

63

63

-

64

63

-

64

64

-

65

Neck

36.5

-

37.5

37.5

-

38.5

38.5

-

39.5

39.5

-

40.5

40.5

-

41.5

41.5

-

42.5

42.5

-

43.5

43.5

-

44.5

44.5

-

45.5

45.5

-

46.5

46.5

-

47.5

Waist

74

-

78

78

-

82

82

-

86

86

-

90

90

-

94

94

-

98

98

-

102

102

-

106

106

-

110

110

-

114

114

-

118

CHEST

Chest circumference

---

The measurement of the chest in its maximum extension during normal breathing, measured with the person standing, passing the measuring tape horizontally around the torso over the scapula bones (the shoulder blades) and just under the armpits.

ARM

Sleeve length from shoulder (arm straight)

---

The distance from the most protruding point of the shoulder to the wrist (on the end of the Ulna bone), measured with the arm relaxed at the person's side.

NECK

Neck circumference

---

The circumference measured at 2 cm below the Adam's apple in the front, and at the 7th cervical vertebra in the back (i.e. NOT horizontally).

WAIST

Waist circumference

---

The circumference measured horizontally around the waist, just above the highest point of each of the iliac crest bones, during normal breathing, on the person standing, with a relaxed abdomen.

REVIEWS
⚠️ WARNING TO OUR CALIFORNIAN CONSUMERS:
This product can expose you to chemicals known to the State of California to cause cancer or birth defects and reproductive harm. For more information go to: https://www.p65warnings.ca.gov/