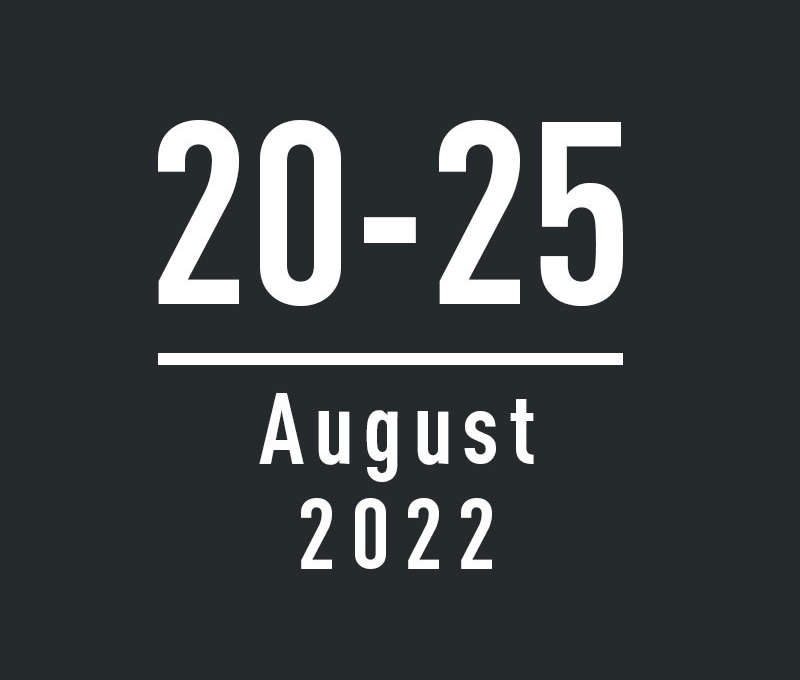 AUGUST 20 - 25, 2022

DAINESE EXPEDITION MASTERS
ICELAND
DAINESE EXPEDITION MASTERS: ICELAND
Six days and 1,000 km to escape in one of the world's earthly paradises. It's an extreme land, amid active volcanoes and glaciers, for a journey through breathtaking roads and routes. If you're looking for an incredible experience in an extraordinary country, put yourself to the test in the saddle of a maxienduro by learning to face the elements, from fords to black desert, and living in contact with the essential quality of nature in all its splendor.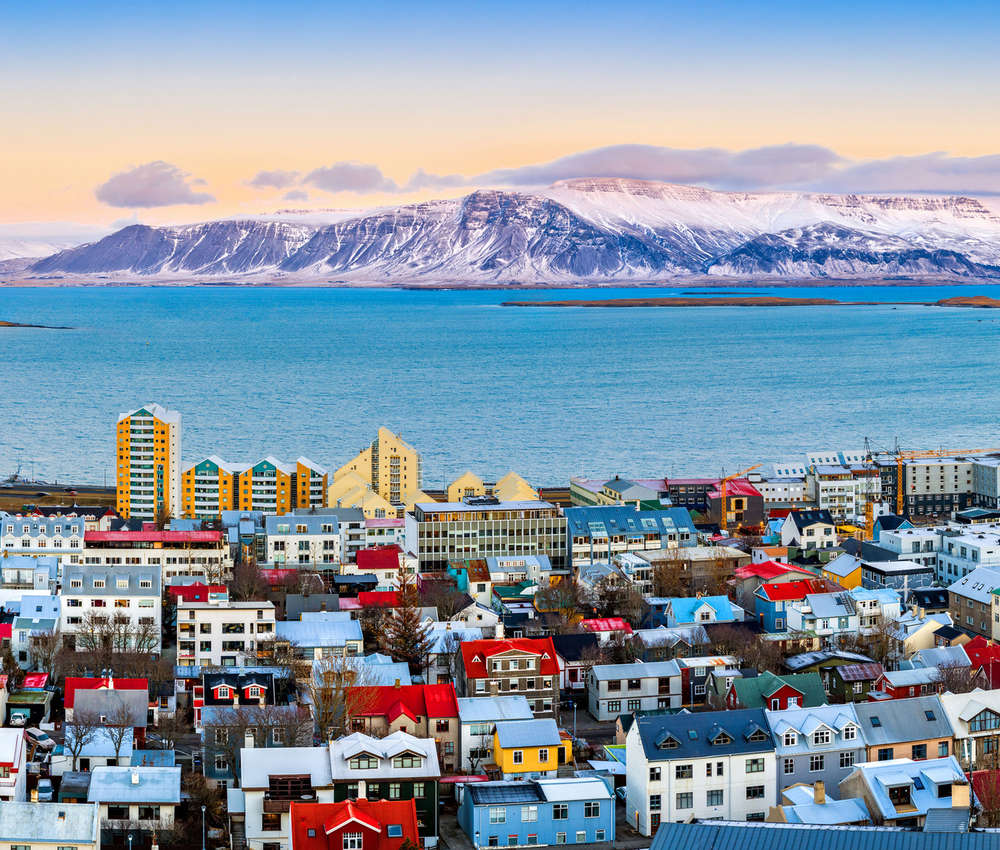 DAY 1

ARRIVAL IN REYKJAVÍK​
Welcome to the island of volcanoes, where we will discover unique landscape that has made Iceland famous.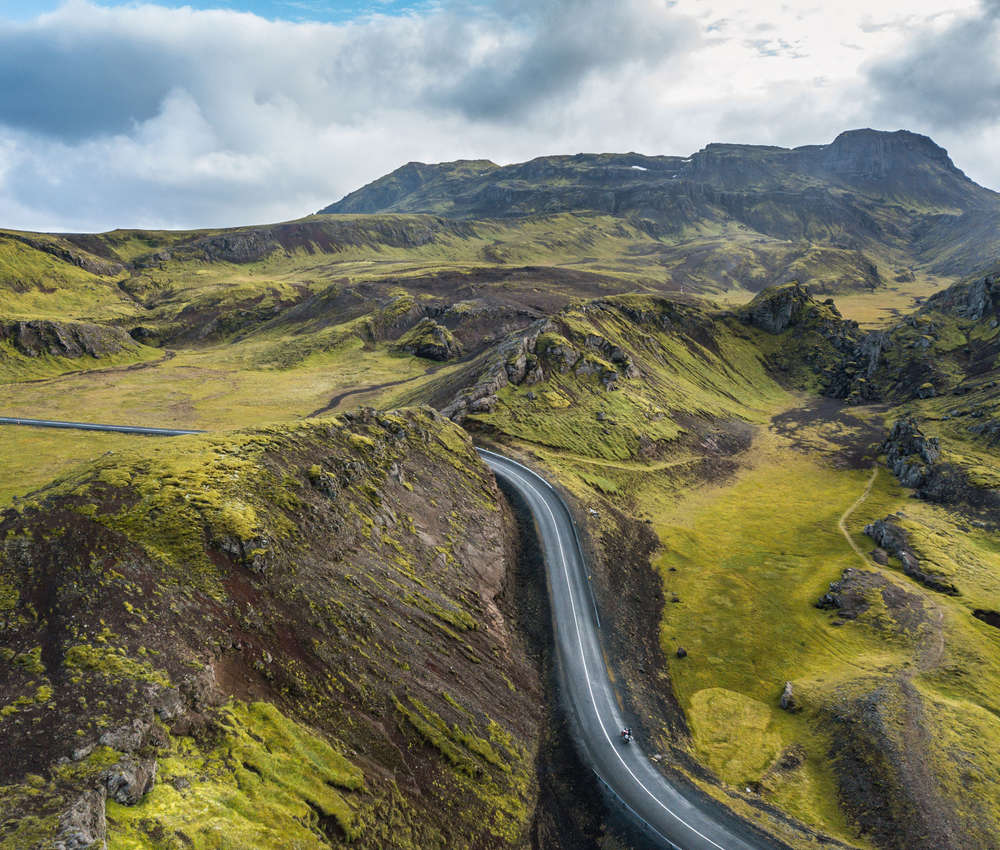 DAY 2

THINGVELLIR NATIONAL PARK – GEYSIR NATURE RESERVE - GULLFOSS FALLS

250 km Road
A route along a large natural park to cross some of the most iconic locations on the island, for the geysers and falls. You start to understand why Iceland is one of the most popular destinations for lovers of unspoiled nature.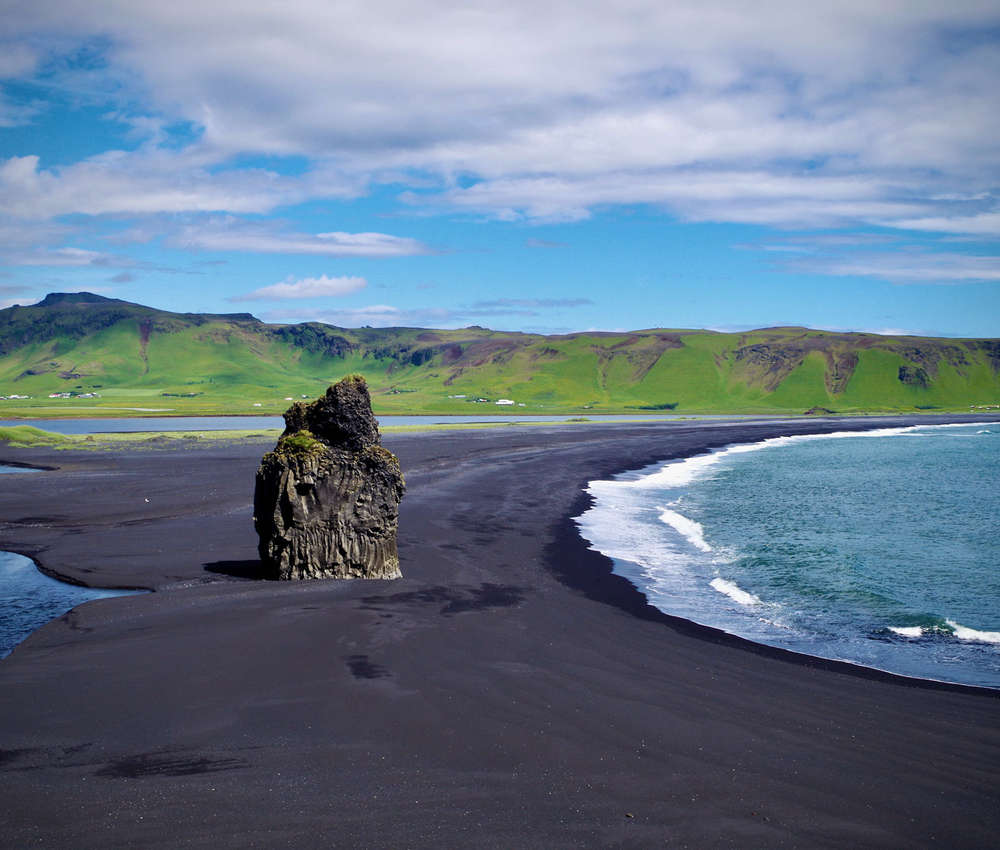 DAY 3

LANDMANNALAUGAR NATURE RESERVE

200 km Road and 120 km
Off-Road
You enter the Landmannalaugar reserve, along stunning black lava sand roads in an extraordinary contrast with the phosphorescent green of the mosses. It's also the region of fords, which come one after another all the way, until you get to the black beach of Vik.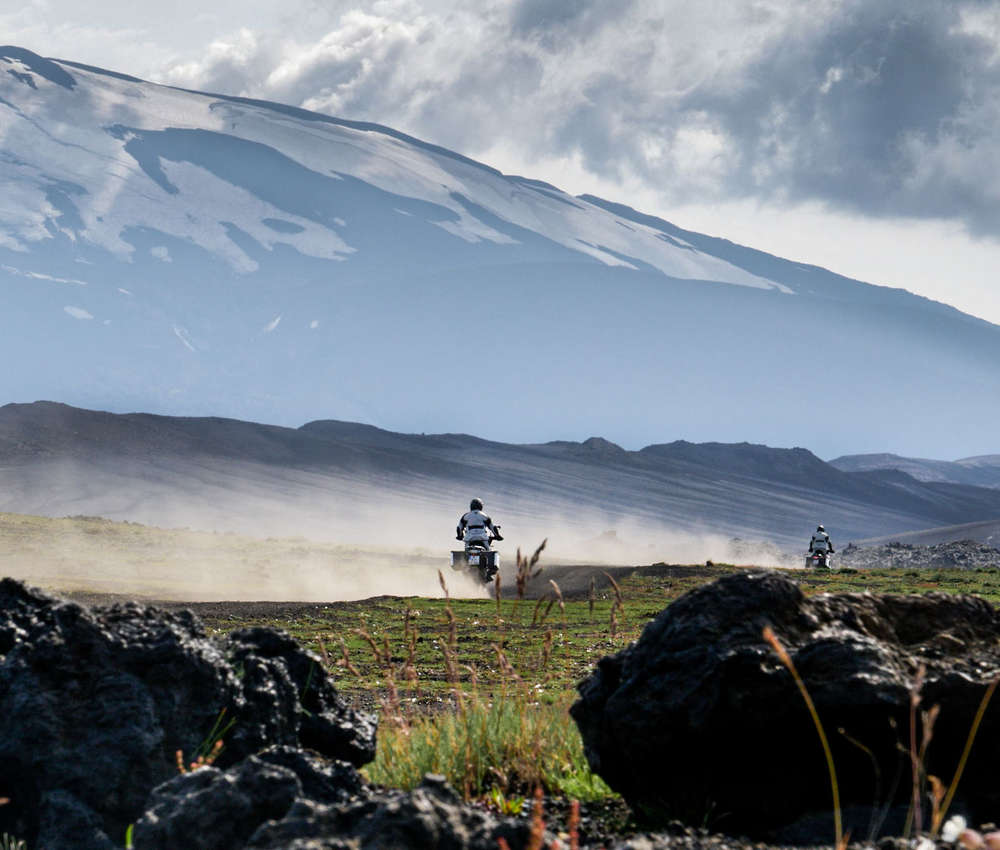 DAY 4

LANDMANNALAUGAR NATURE RESERVE - FJALLABAK BLACK DESERT - HEKLA VOLCANO

50 km Road and 80 km
Off-Road
Climbing the Hekla volcano, one of the largest in all of Iceland, over dirt roads that cross recent lava flows. Then there's the black desert, the colorful mountains, the gushing streams and the great snowfields. It's simply unforgettable.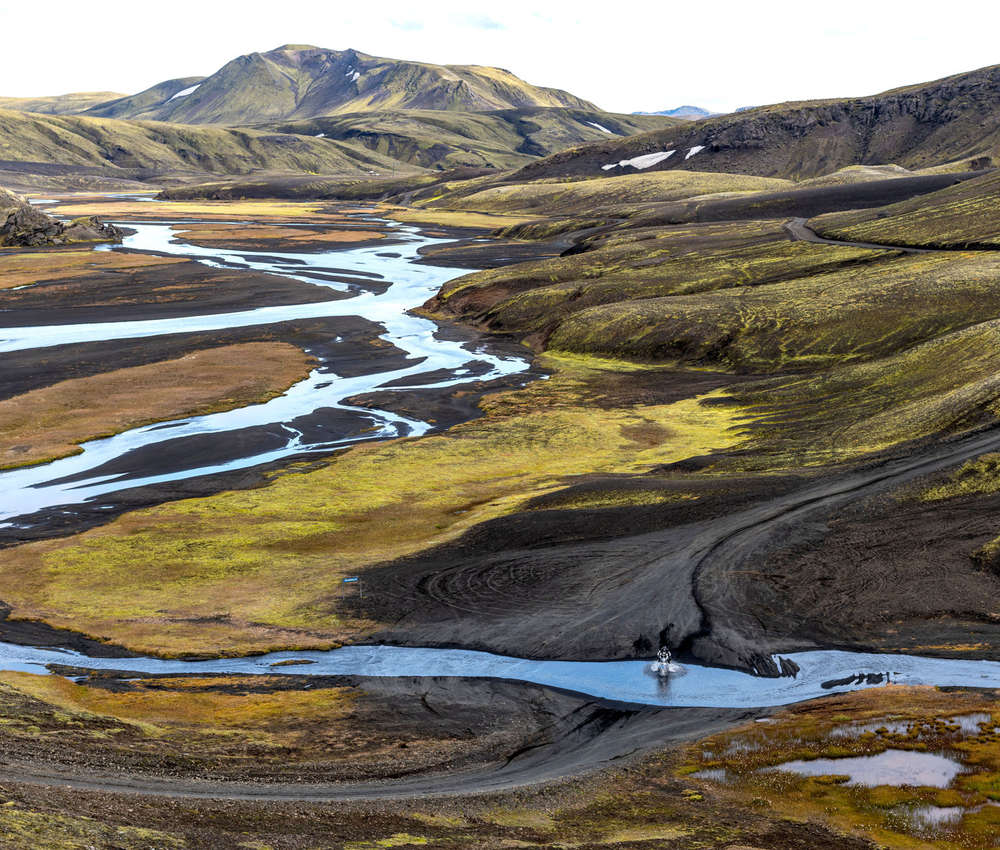 DAY 5

REYKJANES PENINSULA – BLUE LAGOON - REYKJAVÍK

150 km Road and 50 km
Off-Road
We're in the southwest of the island, along stunning lava tracks, until we reach the most famous geothermal area in Iceland. The route is all there to be ridden, on- and off-road.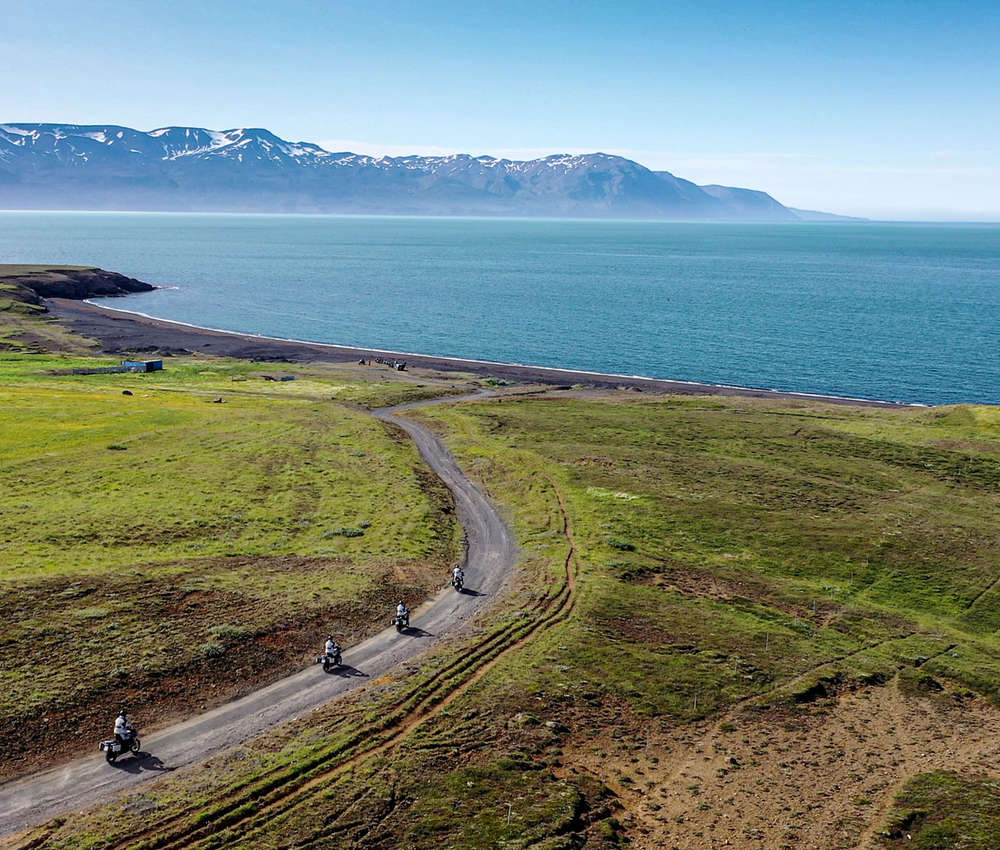 DAY 6

DEPARTURE FROM REYKJAVÍK

150 km Road e 95 km Off-Road
Transfer to Keflavík International Airport for the return flight.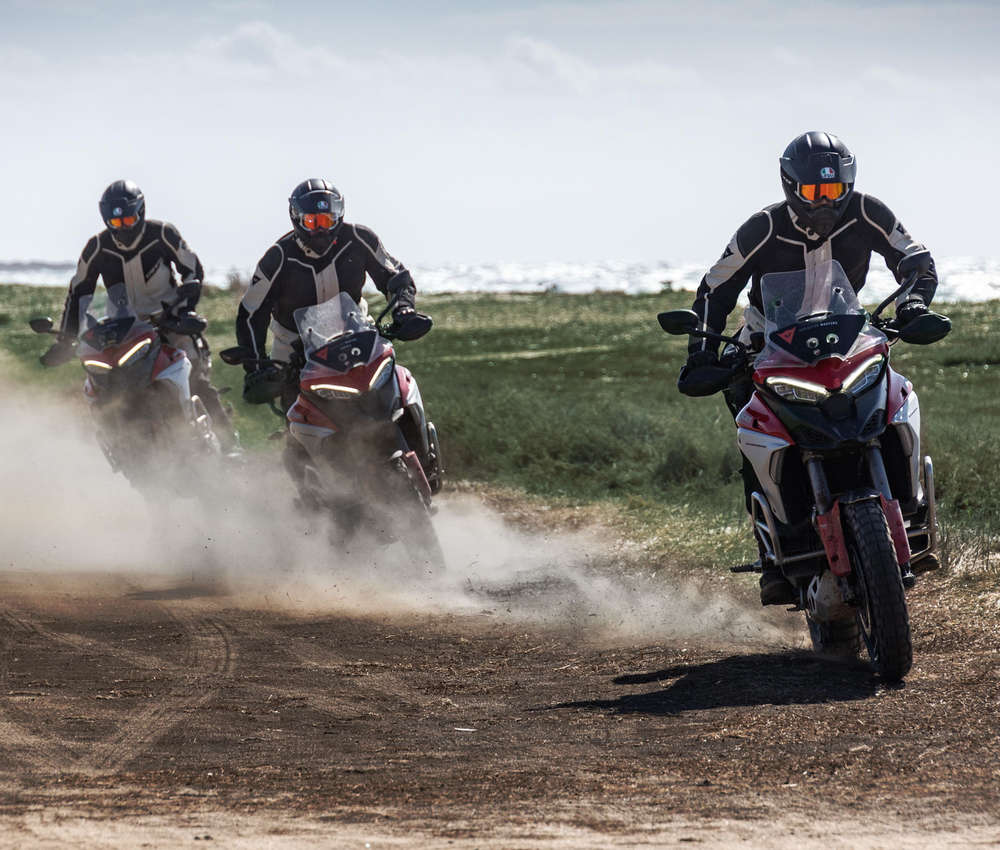 MOTORBIKE

DUCATI MULTISTRADA V4 S
Each participant will be provided with a new Ducati Multistrada V4 S, equipped with Metzeler Karoo 4 off-road tires, ideal for taking on the varied Icelandic terrain in safety.

The HEKLA ABSOLUTE SHELL PRO 20K outfit is the top of the range for adventure travel and its waterproof and breathable membrane makes it ideal for enjoying a trip like this. You can concentrate on riding and the views alone.
Participation fee: € 7,490 VAT INCLUDED
The price includes:
Dainese clothing kit specially designed for the trip (value approx. €4,000).
Use of Ducati Multistrada V4 S motorcycle.
Motorcycle fuel.
5-night stay in a single room with private bathroom.
Lunches and dinners.
Off-road training to perfect riding techniques with a professional instructor.
4x4 support vehicle to transport luggage and mechanical assistance.
Professional photographer and videographer.
Video and photos of the trip.
Detailed road book.
Airport/hotel transfers.
Required riding level: An A-category license and good off-road experience. During the expedition, you will receive training to help you improve your riding technique and safely tackle all types of route, both on- and off-road.
WRITE TO THE EXPERIENCE TEAM
Do you need help choosing the best course for you or do you have any special requirements?
CONTACT US