Images
- 50%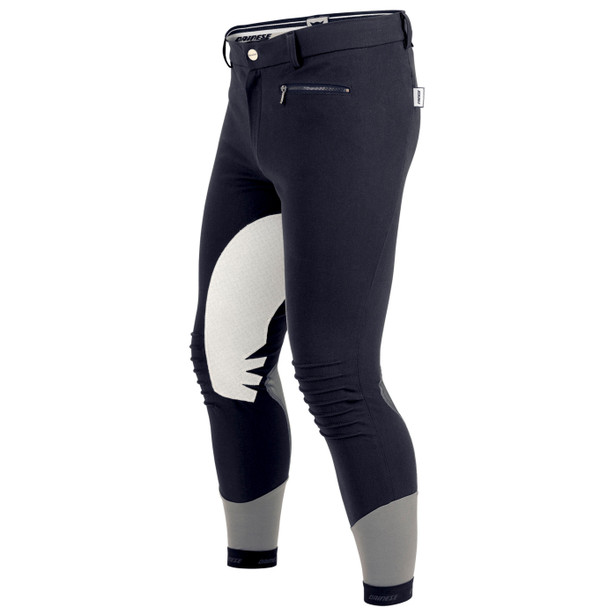 CIGAR PANTS
Pantalons
Details
https://www.dainese.com/fr/fr/equestrian/pantalons/cigar-pants-203769434.html
ID N°: 203769434
Variations
Veuillez sélectionner size
DESCRIPTION

BACK

L'expérience Dainese dans le monde de la protection a porté à la réalisation d'un pantalon d'équitation innovateur, en mesure d'unir la performance et le confort aux plus hauts niveaux. Entièrement en tissu Schoeller® Prestige biélastique, hautement transpirant, indéformable après un usage prolongé et à séchage rapide. Sur la partie interne des genoux se trouve un renfort en Lorica® avec des points en silicone appliqués qui garantit un grip incomparable avec la selle. Le fond de jambe présente une guêtre en Lycra® avec bordure élastique et insert silicone qui évite au pantalon de se salir à l'intérieur de la botte durant l'activité sportive. La couture arrière réalisée avec une attention particulière est cousue en fil de Nylon HT accompagné par un ruban interne, le tout visant à lui garantir une plus grande tenue dans chaque circonstance. Le vêtement est complété par une poche avant et un bouton Tra-in® empêchant l'ouverture accidentelle

GUIDE DES TAILLES

BACK

Select here your preferred measurement:

Alpha
XS
S
M
L
XL
XXL
XXXL
Euro
42
45
48
51
54
57
60
USA-UK
32
34/36
38
40/42
44
46/48
50
Hip

83

-

89

89

-

95

95

-

101

101

-

107

107

-

113

113

-

119

119

-

125

Inseam

76

-

78

78

-

80

80

-

82

82

-

84

84

-

85

85

-

86

86

-

87

HIP

Circumference of the hips

The circumference of the hips is measured horizontally around the part of the pelvis that protrudes most.

INSEAM

Inner Leg Measurement

The distance between the lowest part of the trunk and the soles of the feet measured when standing upright with the feet slightly apart and the weight of the body evenly distributed on both legs.